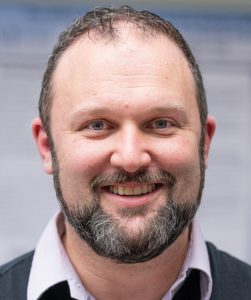 Dr. Derek Fisher, Associate Professor in the Psychology Department and Interim Associate Vice President Research at Mount Saint Vincent University, was awarded the Research Excellence Award at the Fall Convocation on Sunday, November 1st, 2020. The annual award recognizes contribution to the research community and to the research climate at MSVU. The award also serves to showcase the high level of scholarly research at the University.
As a cognitive neuroscientist, Dr. Derek Fisher uses electroencephalogram (EEG) tests to study the electrical activity of the brain. His research is focused on two primary areas of research: how brain function changes in the context of mental illness and neurological illness, and how common drugs change brain activity. Dr. Fisher holds adjunct professor status at Dalhousie University, Acadia University, and Saint Mary's University, and has been appointed an affiliated scientist in the Department of Psychiatry with the Nova Scotia Health Authority. Additionally, Dr. Fisher is an Associate Editor of Clinical EEC and Neuroscience and is a Guest Editor of the International Journal of Physiology for a special issue on the neurophysiology of schizophrenia, as well as an ad-hoc reviewer on an impressive 33 journals, many of them international journals.
According to Dr. Verner Knott, Senior Scientist in the Clinical Neuroelectrophysiology and Cognitive Research (EEG) Laboratory at The Royal's Institute of Mental Health Research, and his initial supervisor, "Dr. Fisher's work on schizophrenia has tremendous clinical implications, as his hallucinatory tendency markers have important value." Dr. Knott adds, "In my own laboratory, we are now using these same markers to assess the effects of electrical stimulation of the auditory cortex in hallucination patients."
Dr. Fisher's colleague, Dr. Michelle Eskritt-Keck, Associate Professor and current co-chair of the Psychology Department at MSVU has this to say about her colleague, "He asks tough theoretical questions…and is willing to deal with messy issues". This distinguishes Dr. Fisher's work from other neuroscientists, as he insists on dealing with sex and gender in his work, not just the randomized inclusion of women, but adhering to a truer meaning of inclusion, including charting menstrual cycles, age, and birth control to women's reaction to caffeine.
Dr. Fisher has had 32 peer reviewed articles published since coming to the Mount in 2011, and 17 prior to becoming a faculty member at MSVU. Dr. Fisher currently has six submitted articles being reviewed for publication (some of which may published by the time of this article!). This amounts to a career total of 55 articles, nine of which were published in 2019. Dr. Fisher's impressive record to date could easily be considered by some to be the measure of a highly productive career total, not just someone in the first decade of academic work.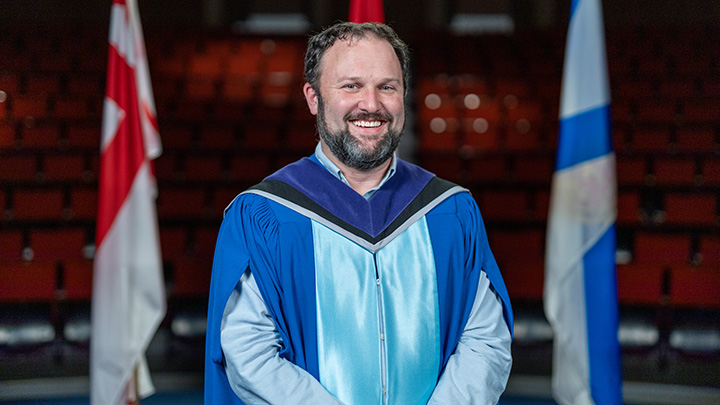 Dr. Fisher's colleague Dr. Phil Tibbo, researcher and professor in Professor in the Department of Psychiatry in the Faculty of Medicine at Dalhousie University says, "I am amazed at his productivity, especially in light of his other quite significant work commitments"  adding "His research focus is on a clinical population, and he is based academically outside of a clinical institution which makes his accomplishments all the more impressive."
As Principal Investigator, Dr. Fisher has held awards from the Natural Sciences and Engineering Research Council of Canada (NSERC), Canadian Institutes of Health Research (CIHR), the Nova Scotia Health Research Foundation, the Dalhousie Psychiatric Research Fund, as well as received numerous internal awards for a total of more than $530,000 in research funding since 2016. Dr. Christine Lackner, Assistant Professor in the Department of Psychology at MSVU, notes that Dr. Fisher was highly generous in sharing both his laboratory and drafts of his successful grants to assist her in getting started in her own career.
Dr. Fisher has been winning awards since his first degree, culminating with a Doctoral Dissertation award in 2011.  He is also the recipient of two awards from the EEG and Clinical Neuroscience Society: An Early Career Award in 2015 for researchers under the age of 40, and The Presidential Service Award in 2018
Additionally, all of Dr. Fisher's nominees for his MSVU research award spoke of his excellent capacity to mentor students, leading them through problem solving tasks to discovery of their own skills. T-Jay Anderson, Doctoral Student at Dalhousie University, who opted to work with Dr. Fisher at MSVU says,  "Dr. Fisher is one of the most understanding and compassionate supervisors I have met during my academic experience…an avid advocate of maintaining a work-life balance and ensuring the mental and physical health of his students."
Dr. Derek Fisher is the 2020 recipient of the MSVU Research Excellence Award primarily for this exemplary research record. However, for his service to his students, his colleagues, his discipline, his research both here in Canada and internationally, Dr. Fisher is by any measure an exemplary University citizen.
Congratulations, Dr. Fisher!