Sheila Brown, PhD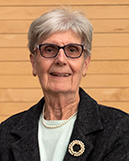 Dr. Sheila Brown was the Mount's ninth President and is President Emerita of MSVU, an honour bestowed upon presidents who rendered exceptionally distinguished service to the University.
During her tenure as President of MSVU (1996 to 2006), Dr. Brown re-affirmed the University's commitment to academic excellence and oversaw significant growth in academic programs. Under her leadership, the university increased its support to students through enhanced scholarships, a new residence, and other services. On the international stage, Dr. Brown oversaw significant growth in the University's online and distance programs, particularly in Jamaica, Barbados, St. Lucia, and through notable partnerships with Bermuda College.
Dr Brown has had an extensive career as a university administrator in several roles. She was also a Professor of Business. She remains active as a mentor, instructor, and facilitator of leadership development programs for university administrators. She has assisted universities and their leaders with issues around organizational structure and functioning, governance, strategic planning, change management and conflict resolution. Most recently, she served a three-year term (concluding December 31, 2021) as Chair of the Maritime Provinces Higher Education Commission (MPHEC) and was also a member of its Quality Assurance, Finance, and Governance & Executive Committees.
Dr. Brown was awarded a Queen Elizabeth II Golden Jubilee Medal, named a distinguished member of the Canadian Society for the Study of Higher Education (CSSHE), named a recipient of the Canadian Progress Club—Halifax-Cornwallis Women of Excellence Award, and was inducted into the Atlantic Business Magazine Top 50 CEO Hall of Fame.
---
Effective July 1, 2022, Dr. Joël Dickinson will be appointed as Mount Saint Vincent University's next President and Vice-Chancellor.