Research with Human Participants during COVID-19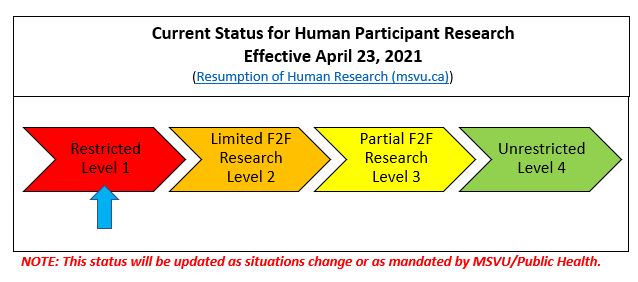 Click for detailed descriptions of the levels.
Resumption of Research at MSVU during COVID-19
Updated June 3, 2021
Researchers are reminded that they and their research team must abide by all Public Health directives and MSVU requirements (Resumption of Human Research (msvu.ca) ) regarding in-person contact with participants. In-person research requires additional clearance and may not proceed until the second level clearance is obtained.
In keeping with the Province of Nova Scotia "Reopening Safely with COVID-19 Plan", Mount Saint Vincent University has revised the schedule of resumption of Face-to-Face / In-person research for MSVU researchers. Click here for details.
If researchers have not yet applied to resume F2F research please follow the instructions below:
The UREB continues to accept and review new applications, modifications, renewals and study closures.
In-person participant interactions (recruitment and data collection) must be replaced with telephone, online communications or other remote measures. If your cleared protocol involves any in-person participant interactions, you must complete a modification request as soon as possible (REB.FORM.002). We are processing these requests as quickly as possible.
Researchers should be aware that any data collected in this pandemic environment may alter, skew or contaminate your results, unless your focus includes COVID 19 questions. Further, researchers may need to address/disclose this in publications and other knowledge dissemination activities when documenting method and timeframe of data collection.
If researchers are able to postpone recruitment and data collection, we strongly recommend doing so. Please let us know at ethics@msvu.ca and we will place your file temporarily on hold.
If you need to postpone data collection and have questions about extending your funding, please contact research@msvu.ca.
If it is not possible to postpone the research or modify participant contact, please contact us as soon as possible at ethics@msvu.ca with a formal request and full rationale. Requests will be considered on a case-by-case basis.
Researchers with questions or concerns are encouraged to contact the UREB via email: ethics@msvu.ca.
As per the federal government advisory, research ethics applications directly addressing COVID-19, or pandemics generally, will be given first  priority for ethics review.
The UREB has worked closely with the Lab Access Committee and Senior Administration to develop procedures for resuming F2F research in a narrow and phased approach. Researchers are invited to review the process and procedures and submit applications for resuming F2F research studies, keeping in mind that researchers must also plan for immediate cessation of research if conditions change.
Wherever possible, researchers should continue to maintain remote contact with participants. Any research that involves F2F interaction must have clearance from the UREB and the Lab Access Committee.
Researchers that currently have human participant studies with healthy/less-vulnerable individuals that require F2F interaction are encouraged to review the procedures and forms prior to submitting a request.
⇒Please do not submit the application/documentation if you do not meet the current status and criteria.  
Contact ethics@msvu.ca if you any have questions or concerns.
Researchers who wish to resume human participant research studies, or are considering new research studies with human participants, are asked to first review the documents below to determine if their research meets the current criteria for resumption of research with human participants:
For more information, please contact ethics@msvu.ca.

Relevant Links: