You're invited to come look through the lens of newcomer families in Nova Scotia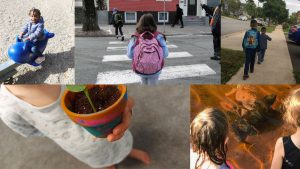 Event Details
What: An outdoor photo gallery featuring photos taken by newcomer families illustrating their resettlement experiences in Nova Scotia.
When: Saturday, October 23rd, 1-3 p.m. (Rain date: Sunday, October 24th, 1-3 p.m.).
Where: Emera Oval (5775 Cogswell St. Halifax, NS. B3K 4B2).
Note: To reduce the spread of COVID-19, masks will be required and physical distancing will be encouraged. 
Project Background
Both newcomer families and early childhood educators participated in this research project.
The purpose of this research was to learn about the unique experiences of newcomer families in Nova Scotia using photographs. Families and educators shared how they navigated change and transition, their perspectives on the programs and services available, and the barriers they face. The project took place during the COVID-19 pandemic. For newcomer families, the pandemic led to further feelings of isolation and exclusion.
A photovoice methodology was chosen because the images provided a universal language for participants to share their perspectives. It is hoped that the results will support changes to policy and programs to support greater inclusion and address inequities among newcomer families in Nova Scotia.
The project was led by Dr. Jessie-Lee McIsaac, Tier II Canada Research Chair in Early Childhood: Diversity and Transitions at the Early Childhood Collaborative Research Centre, Mount Saint Vincent University, in partnership with the Immigrant Services Association of Nova Scotia (ISANS). This project was supported by the Social Sciences and Humanities Research Council (SSHRC).
View our infographics
Newcomer families' experiences finding and using programs and services [English] [Arabic]
Needs of newcomer families based on the perceptions of their early childhood educators [English] [Arabic]