Asian Heritage Month is a time for us to learn about and recognize the many achievements and contributions of Canadians of Asian decent who have done, and do, so much to help make Canada the country it is. It is a time to learn and appreciate Asian culture and history. It is also a time for Canadians to come together and combat all forms of anti-Asian racism and discrimination.
At the ECCRC, it is our objective to work collaboratively with organizations that provide family support services such as the Immigrant Services Association of Nova Scotia (ISANS) and Nova Scotia Early Childhood Development Intervention Services (NSECDIS). We do this to understand the experiences of all families in Nova Scotia to help inform policy and practice. Learn more about some of our projects supporting Canadians of Asian decent below:
Illustrating the Experiences of Immigrant Families in Nova Scotia: A Photovoice Project Exploring the Experiences of Newcomer Families with Young Children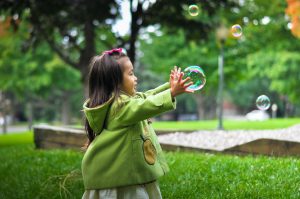 Canada's immigration population has reached its highest rate in 2016 since confederation; the majority of this population is newcomers from Asia, including the Middle East (Statistic Canada, 2017).
Immigrant families with young children face unique post-migration challenges that influence the healthy development of their children. With the rise in the immigration rate, there is a need to understand how immigrant families with young children access and use services to support their children.
In 2019, Dr. Jessie-Lee McIsaac, in partnership with Immigration Services Association of Nova Scotia (ISANS), received the Social Sciences and Humanities Research Council (SSHRC) Insight Development Grant to explore the experiences of immigrant families with young children accessing services in Nova Scotia. In this project, participants have used cameras to take photos to illustrate immigrant families' experiences. This type of research is a Photovoice project that is an appropriate method for studies with immigrant populations as photographs will be another way for them to communicate their stories without relying solely on the spoken or written words in English.
Since the pandemic has begun, this project has moved online. A virtual platform was chosen based on the participants' familiarity with online platforms to ensure that technology was not a barrier to their participation. This project currently recruited six early childhood educators from ISANS who shared their photographs and stories about pre-and post-pandemic experiences of immigrant families. Some of the concern that were raised by the participants about families' experiences accessing services were around financial challenges, language barriers, equality, uncertainty, anxiety, fear of the unknown, and isolation. Moving forward, this project will continue recruiting immigrant families with young children to hear and document their voices regarding their experiences accessing early childhood services in Nova Scotia.
Positive Solutions for Families: Promoting Positive Parent Behaviours to Support Social Emotional Health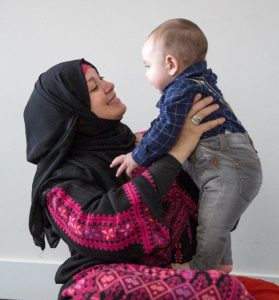 Positive Solutions for Families is a population-level intervention including parent workshops that aim to develop family protective factors for mental health promotion through a focus on building supportive environments for social and emotional learning during early childhood. PSF content has been translated from English to Arabic and will continue to be translated into other languages to meet different populations in Nova Scotia, including newcomer families.
PSF is delivered through online or in-person sessions. Sessions include activities such as group discussions, evidence-based practice and role-play and cover topics such as building relationships, strategies to promote positive behaviour, and play as a powerful parenting practice. The program will be facilitated by existing staff from the Nova Scotia Early Childhood Development Intervention Services (NSECDIS), who provide province-wide specialized services to families of young children between birth and school entry, who either have a biological risk for or a diagnosis of developmental delay. The research includes an evaluation of the PSF sessions through surveys, training evaluation forms, and interviews. The research will be conducted with families participating in the training sessions and with the facilitators who are delivering the training.
In addition, the project will support knowledge exchange by creating regional and provincial opportunities to exchange lessons learned in the implementation of the intervention. The project will also explore the interest, feasibility and cultural appropriateness of the intervention in Mi'kmaq and newcomer communities.
Dr. Jessie-Lee McIsaac and our ECCRC team have been awarded a $271,903 grant through the Public Health Agency of Canada's (PHAC) Mental Health Promotion Innovation Fund. This funds aims to support mental health promotion projects with a focus on reducing systematic barriers for vulnerable populations.