TEDxMSVU Women Speakers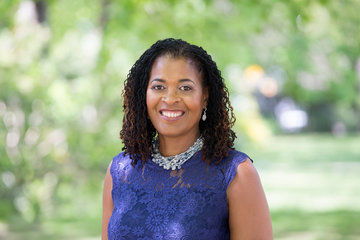 Paulette Senior
CEO and President
Canadian Women's Foundation


Paulette Senior has devoted her life and career to breaking down systemic barriers and building up diverse women and girls. Her personal experience immigrating to Canada from Jamaica as a young girl ignited her interest in social justice and helped make her the dynamic, grounded leader she is today.
Paulette's career began in social services in some of Toronto's most underserved neighbourhoods. She witnessed the need for systemic change and learned the power of putting the voices of women and equity-seeking communities first. She became known for her excellence in shelter, employment, and housing service provision, as well as for her intersectional approach to advocacy. She has earned numerous awards and has become one of the most respected women leaders in Canada.
In 2016, Paulette joined the Canadian Women's Foundation as President and CEO after a decade serving as CEO of YWCA Canada. She is a sought-after thought-leader on numerous issues including gender equity and gender-based violence; women's poverty and the wage gap; girls' empowerment; and leadership. Her focus at the Foundation is to bolster an inclusive national movement for all women, girls, and communities across Canada.
"The premise of the Foundation when it was created was to transform the lives of women and to support the underpinning of a women's movement in Canada. Being able to lead the next iteration of that is an incredible opportunity." – Paulette Senior
Professional and volunteer background
Paulette has worked with all levels of government and civil society to address issues including poverty, housing, gender-based violence, immigration, and social justice. She has led, managed, and operated shelters, employment programs, and housing programs at organizations such as Yellow Brick House, YWCA Toronto, Macaulay Child Development Centre, Lawrence Heights Community Health Centre, and Central Neighbourhood House. She is former Chair of the Board at Women's College Hospital and currently sits on the Boards of the Royal LePage Shelter Foundation and the global Women's Funding Network.
Education and awards
Paulette graduated from York University with a double honours BA in psychology and urban studies. Over the course of her career, she has won several awards including: the African Canadian Achievement Award, the AfroGlobal Leadership Award, the Black Women Civic Engagement Award, the Black Business and Professional Association's Harry Jerome Trailblazer Award and the MicroSkills Margot Franssen Leadership Award.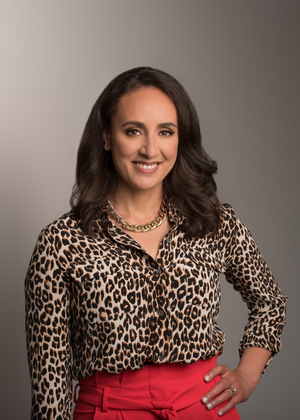 Eleanor Beaton

Women's leadership mentor and founder of Fierce Feminine Leadership, an organization that helps ambitious women develop the confidence, presence, political savvy and influence they need to smash the glass ceiling and take their seats at the tables where the big deals and big decisions are made. Eleanor is also an award-winning journalist and host of the Fierce Feminine Leadership podcast. She has served as Chair of the Visiting Women's Executive Exchange Program at the Yale School of Management. She currently sits on the boards of Innovacorp and Invest Nova Scotia.
Eleanor Beaton was the winner of the 2018 Nova Scotia Export Achievement Award: Business of Diversity Champion of the Year. In 2017, she won the prestigious Profiles in Diversity "Women Worth Watching" Award for her work promoting diversity and inclusion. She was also named Canada's Leadership Coach of the Year by the 2017 Corporate Excellence Awards.
Eleanor has been privileged to serve some of the country's most recognized women leaders, including Arlene Dickinson, star of CBC's hit show Dragon's Den and former Canadian First Lady Margaret Trudeau.
An international keynote speaker, Eleanor has presented at conferences whose rosters include such notables as former US Secretary of State Hillary Rodham Clinton, Oscar-nominated actress Taraji P. Henson and 23andMe Inc. co-founder Anne Wojcicki.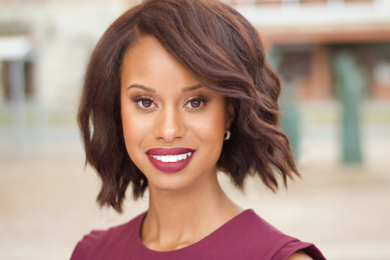 Ariel Gough

Social entrepreneur, policy and communications advisor, and speaker. Originally from the historic African Nova Scotian community of Upper Hammonds Plains, Ariel has helped some of Canada's most senior elected officials to engage the next generation of leaders in the political process. She has also led the development of policies related to poverty reduction, early learning and child care, and youth.
Ariel is the co-founder of Bailly, a perfume company with a mission to create transformational fragrances and inspire true potential. Fifteen percent of every purchase of Bailly products goes to providing life skills and mentoring training to girls in Uganda.
A recipient of the Premier of Nova Scotia's Power of Positive Change Award and the Delmore Buddy Daye Learning Institute's Ancestral Roots Award for civic engagement, Ariel was selected among 150 Canadian youth to travel to the Arctic to engage Indigenous youth on some of the North's most pressing issues. She currently sits on the steering committee for the Alexa McDonough Institute for Women, Gender and Social Justice and facilitates leadership workshops for girls across Nova Scotia.
Ariel is deeply committed to inspiring people to use their gifts to make a meaningful impact; championing the remarkable examples of young people as agents of social change; and educating public leaders on how to support the next generation of civic leaders.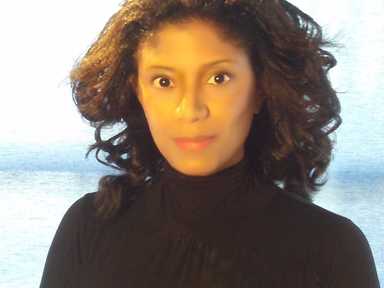 Dr. Ingrid Waldron, Ph.D


Associate Professor in the Faculty of Health at Dalhousie University, the Director of the Environmental Noxiousness, Racial Inequities & Community Health Project (The ENRICH Project), and the Team Lead for the Health of People of African Descent Research Cluster at the Healthy Populations Institute at Dalhousie University. She holds a BA in Psychology from McGill University, an MA in Intercultural Education: Race, Ethnicity & Culture from the Institute of Education at the University of London, and a Ph.D. from the Sociology and Equity Studies in Education Department at the University of Toronto. She was also a postdoctoral fellow at the Center for Women's Health in the Faculty of Medicine at the University of Toronto.
Ingrid's scholarship is driven by a long-standing interest in looking at the many ways in which spaces and places are organized by structures of colonialism and gendered racial capitalism. Her research, teaching, and community leadership and advocacy work are examining and addressing the health impacts of structural inequalities within health, education, employment, child welfare, the environment, and criminal justice in Indigenous, Black, immigrant, refugee, and other racialized communities in Nova Scotia and Canada. As a Black feminist scholar, Ingrid has a specific interest in looking at how the bodies of Black and other racialized women have long been sites of trauma that carry the weight of the past, and present-day stereotypes that dehumanize and harm. She is also interested in decolonization, and the transformative human agency of Black, Indigenous, and other racialized women, in the face of oppressive structures.
Over the last several years, she has been leading the Environmental Noxiousness, Racial Inequities & Community Health Project, which is investigating the socio-economic and health effects of environmental racism in Mi'kmaq and African Nova Scotian communities across Nova Scotia. The project formed the basis to the creation of Bill 31: Redressing Environmental Racism Act, the first bill to address environmental racism in Canada and to be introduced in the legislature in Canada.
In 2018, Dr. Waldron was awarded Dalhousie University President's Research Excellence Award – Research Impact, and in 2019 she was awarded the Dalhousie University Faculty of Health Early Career Research Excellence Award.
Her first book There's Something in the Water: Environmental Racism in Indigenous and Black Communities was released in April 2018 by Fernwood Publishing and received the 2019 Atlantic Book Award for Scholarly Writing.
The 2019 documentary There's Something in the Water is based on Dr. Waldron's book and was co-produced by Waldron, actress Ellen Page, and Ian Daniel. The film had its gala premieres at the Toronto International Film Festival and the Atlantic International Film Festival in September 2019.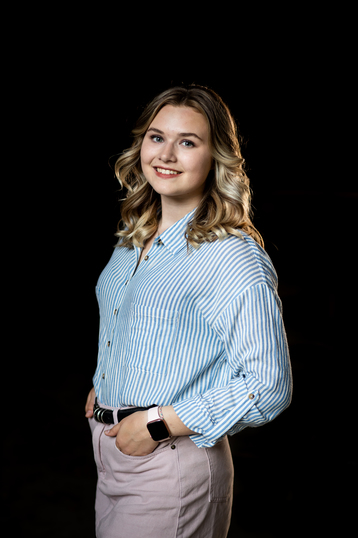 Stella Bowles


Prompted action for the clean up of Nova Scotia's LaHave River, which contains alarmingly high levels of fecal contamination. Because of her work, three levels of government have allocated $15.7 million dollars to address the problem of illegal straight pipes that still drain raw sewage from over 600 homes along the river.
Three years since her initial research, Stella continues to be an advocate for the elimination of illegal straight pipes province wide. She has teamed up with Coastal Action Foundation and together they have started a campaign training other kids to become citizen scientists and test their own waterways.
Stella has won many awards including the Meritorious Service Medal from the Governor General of Canada, the Action for Nature International Young Hero's Award from California and the Canada's Walk of Fame Community Hero Award and most recently, the Weston Youth Innovation Award from the Ontario Science Centre. In a completely separate project, Stella has also become the youngest ever published micropaleontologist.
Stella's story is now a book, My River: Cleaning up the LaHave River, written by Anne Laurel Carter. Stella hopes her story will inspire other youth to become advocates for issues they care about.
"I've learned that kids do have the power to make change," says Stella. "And I'm just getting started."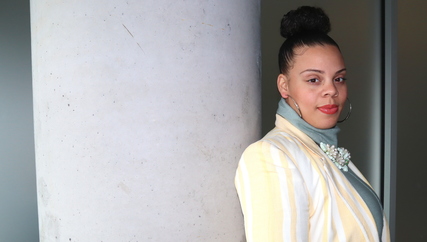 Rajean Willis, RSW, MSW, PhD (Student)


Rajean Willis is a proud Indigenous African Nova Scotian woman from Truro, NS with roots from East Preston, Africville and Shelburne. She has been practicing as a social worker for about eight years in community outreach and community clinical settings. Rajean began her social work career as the first full-time hired Outreach Social Worker with the NS Association of Black Social Workers in
partnership with Akoma Family Centre where she worked directly with members of the African Nova Scotian communities and communities of African descent in NS. Her place in the fight for social justice began well before that however, at around the age of twelve in her home community in Truro, NS. Currently, she is a clinical social worker with Correctional Services Canada, Community Mental Health Services. Some of Rajean's most prideful and impactful work has been around researching and raising awareness around mental health, substance abuse and gambling within the ANS communities and communities of African descent in NS. She produced and hosted, in partnership with ABSW and Eastlink TV, two talk show series where first voice lived experiences were shared. Rajean has plans to continue educating in this way through her self produced and hosted YouTube channel.
Rajean's community work is extensive with experience in community and program development, research, writing, mentorship, facilitation and therapeutic intervention. She has a small private practice and is a current first year PhD student at MSVU in the Inter-University Doctoral program. Her research interests include exploring cultural and intergenerational trauma and holistic healing within the African Nova Scotian communities.
Rajean is an invested, loving partner, mother, daughter, sister, granddaughter and friend, among many other important pieces of her holistic identity.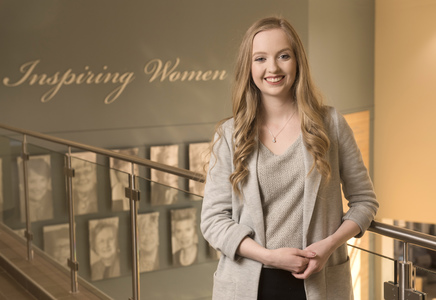 Elizabeth Duff


Recent graduate of Mount Saint Vincent University's Bachelor of Public Relations program. During her time as a Mount student she reformed policy as Chair of the Mount Saint Vincent University Students' Union, represented the university in multiple marketing campaigns, and wrote over 50 publications for the university's website profiling the achievements of faculty, students and staff. Her work has been recognized through accolades including the President's Scholarship (2015-2019),

Co-Op Student of the Year (2018), MSVUSU President's Award (2019) and more.
Elizabeth is now the Public Relations and Content Marketing specialist for SalesRight, a Halifax-based startup that creates interactive and intelligent pricing solutions for B2B SaaS sales teams. She is passionate about taking a fearless, feminist approach to goal setting and pursuit, and hopes to inspire young women to set paths that push against social norms and redefine expectations.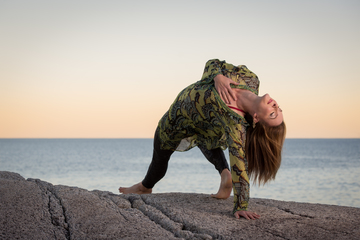 Jenny Kierstead


Founder of Yoga in Schools and Breathing Space Yoga Studios, for which she received the Women of Excellence and the Women of Influence Awards. After leaving her teaching position with the Vancouver School Board, she pursued studies in yoga, yoga therapy, Ayurvedic Medicine and human potential around the world. Upon returning to her maritime roots, Jenny wrote the first ever Yoga Grade 11 curriculum to be implemented within the public-school arena and has trained thousands of public school teachers in her highly reputed Yoga in Schools Teacher Training workshops.
Jenny has written 10 yoga and mindfulness school programs and her latest release, Girl on Fire Empowerment Program (with a First Nations version called "Keeper of The Fire"), has a growing community of over 250 certified trainers who are delivering the program across Canada.
Jenny spends her free time adventuring with her husband and two spirited daughters.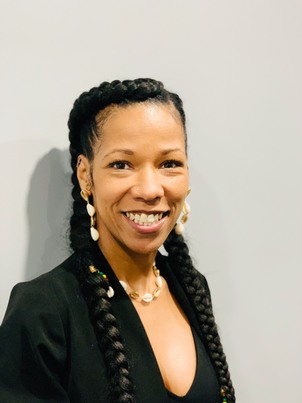 Angela Bowden


Writer, speaker and activist born and raised in New Glasgow, Nova Scotia. Bringing her lived experiences as an African Nova Scotian woman, Angela speaks and writes extensively about social justice and the emotional experiences of her people.
She has delivered many speeches at social justice and women focused events and has published articles and poetry reflecting African Nova Scotians experiences and pain. Angela is passionate about the anti-racism activism she is involved in and has organized and participated in many events that challenges the injustices in our communities and systems.
Angela has served as a youth care worker in education and secure care settings and as a behavioural counsellor for federally incarcerated women. Her current work focuses on identifying and healing from generational trauma and she seeks to inspire and empower black women and youth to heal from these wounds and create new ways of being.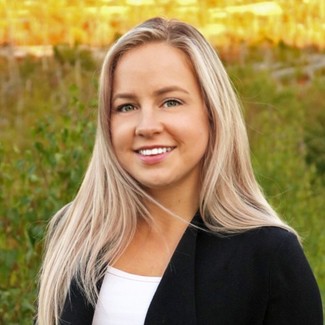 Sara Evely


President of Dalhousie Women in Engineering Society. She is a final year student; studying structural and transportation engineering at Dalhousie University. Sara also holds a degree in behavioural neuroscience which has allowed her to develop unique perspective and deeper understanding of the challenges associated with increasing the number of women in STEM.


When not advocating for women on campus, Sara fulfills her duties as secretary for the Dalhousie American Concrete Institute; a team which recently placed 4th internationally.
She recently presented at the 2019 ACI Fall Convention in Ohio and was interviewed by the Nova Scotia Department of Labour and Advanced Education and the Dalhousie Engineering Magazine. Sara graduates in May 2020 and hopes to peruse a career in project management.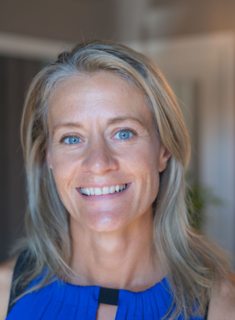 Mia Lockhart


Founder of Girls on Boards, a non-profit recreation empowerment company offering body-positive paddle boarding, snowboarding and now skateboarding experiences to young women with a mission to help them find their balance, trust their core and feel their own power.

Mia is a registered massage therapist, mother of 4 teens and a women's empowerment activist from Wolfville, Nova Scotia.