Universite Catholique de Lille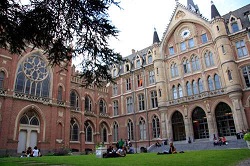 Universite Catholique de Lille is a private university located in Lille France. It has a great reputation in the French higher education system and is the center of education, research and service. It was founded in 1875. Approximately 25,000 students are enrolled in this university.
Courses
Universite Catholique de Lille offers in 4 main fields of study: Sciences and Technology, Health Sciences, Arts, Humanities, Education, Social Sciences; and Law, Economics, Management.
Housing
Housing and Catering on Universite Catholique de Lille are managed by the AEU organization ("AEU" standing for "Association d'Entraide Universitaire"). AEU assists students with their on campus life by providing catering, housing, health, social issues and sports services. University dorms are available for students. It is not easy to find accommodation after arriving in Lille, so make sure get everything ready before your departure.
Average Monthly Living Costs
| | |
| --- | --- |
| Accommodation | €260 to €500 |
| Food | €200 |
| Cellphone | €40 (€0.30 per min) |
| Transportation | €30 to €50 |
Euro is the currency of France. €1 EUR ≈ $1.45 CAD.
Visa
Visa may be necessary depending on your nationality. Students need to have received Universite Catholique de Lille acceptance letter (lettre d'invitation) before starting the visa application (the original letter is sent to the home university). A tourist visa is not sufficient and students will face being expelled from France after 3 months and any diplomas or credits obtained will not be recognised. For more information, check out France Embassy in OTTAWA.
Additional Information