Study & Explore China: Summer Program
Currently Available Every Other Year
Application is open for 2020

China is one of the biggest countries in the world with 20% of the world's population. Now the Mount provides you with an opportunity to study in this magnificent and mystical country, and witness the grandeur of some Chinese cultural heritage, such as the Forbidden City and the Great Wall.
China Summer Institute (three weeks):
Earn credit for an ARTS 1000-level elective by spending three weeks in China

Two weeks at a Chinese university in a city that features rich culture and picturesque scenery

One week exploring some famous cities, such as Beijing, Xi'an or Shanghai.
The program includes: Elementary Chinese, Traditional Chinese Sports, Chinese history and
Geography and Appreciation of Chinese Traditional Arts
Cost: $3,500 CAD. Includes: airfare; local travel; accommodations; tuition; visa; as well as select
sightseeing tours and select meals.
Tentative Itinerary
| | |
| --- | --- |
| Days 1 & 2 | Departure from Halifax, arrival in China, dinner, and tour. |
| Days 3 & 4 | City tour: museums or tourist spots, and dinner. |
| Days 5-16 | Arrival at the university; Summer Institute courses: Mandarin, Chinese culture, history, geography, Tai Chi, Chinese cooking. Final day: exams and graduation ceremony. |
| Days 17 & 18 | Arrival in Beijing, the Great Wall tour, and dinner. |
| Days 19 & 20 | City tour, such as the Forbidden City etc, and departure from Beijing. |
Currency Exchange

Chinese money is called Renminbi (RMB) means "The People's Currency". The popular unit of RMB is the yuan. 1 Canadian dollar ≈ 5.30 yuan RMB (xe.com)
There are many banks in Fuzhou. However, the Bank of China changes major currency and traveler's cheques. There's a 24-hour ATM which takes international cards.


Weather
The climate in China varies from region to region since the country is massive. In the southeast where we are going it is semi-tropical. Therefore, you will see greenery and blooms or blossoms everywhere.


Shopping
There's little you can't buy in Fuzhou – from designer clothing to trinket souvenirs. There is a late night market which is lined with shops and stalls. It's good for clothes shopping during the day.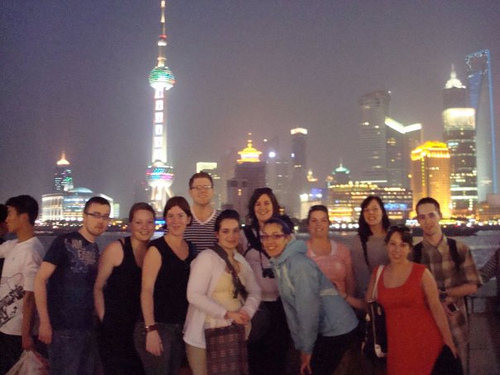 Apply now: China Summer Institute Application

Application Deadline: February 15, 2020
The Application Form is in the fillable PDF format. Please download it to your computer and fill it out using Adobe Acrobat Reader DC.

"Participating in the Ginling Summer Institute was a major highlight of my entire experience at the Mount. I knew I would learn a lot, but what I was able to see and experience still blows me away. It was great to be able to experience a culture that exists a world away from our own and I hope that Mount students take advantage of this program in the years to come. I can promise they won't regret it!"


– Odessa O'Dell, 2009 Summer Institute participant