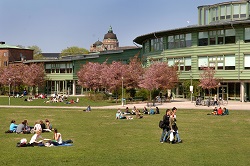 Södertörn University
Södertörn University (Södertörns högskola) has expanded rapidly since its foundation in 1996. Nearly 16,000 students are enrolled, including about 220 incoming exchange students. The university campus is located in Flemingberg, a southern suburb of Stockholm. City centre is 20 minutes away by commuter rail.
Courses
Södertörn has a multidisciplinary and multicultural ethos. The university offers more than 80 study programs within Humanities, Social Sciences, Business, Tourism & Hospitality Studies, and Media & Mass Communication Studies, with many English language options.
Housing
Södertörn guarantees accommodation to non-European Union exchange students during their studies. Students choose between shared and single rooms at one of three residences, Björnkulla, Riksten, and Lappis. The closest one, Björnkulla, is a 15 minute walk from campus.
Average Monthly Living Costs
| | |
| --- | --- |
| Accommodation | 4,000 to 5,000 SEK |
| Food | 1,800 to 3,000 SEK |
| Cellphone | 200 to 300 SEK |
| Transportation | 790 SEK |
The Swedish krona is the currency of Sweden. $1 CAD≈ 6.5 kroner.
Residence Permit
Non-European Union students must apply for a student resident permit if they are living in Sweden for over 90 days. The cost for Canadian students is about $200. Please contact the
Swedish Embassy
in your home country for more information.
Additional Information