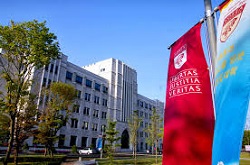 Korea University
Located in the heart of Seoul's Seongbuk district, Korea University educates roughly 35,000 students of which 757 are international students. The university is recognized as one of the oldest and most prestigious higher education institutes in Korea, and was the first Korean university to offer academic programs in multiple disciplines.
Courses
As a major comprehensive university, KU offers a rich variety of courses in liberal arts and sciences as well as in all professional fields, including law, medicine and business administration. Over 40 percent of courses are offered in English, with plans to increase to 50 percent by 2015.
Housing
Korea University offers exchange students the opportunity to reside in their foreign student dormitory, CJ International House. CJ International House is an air-conditioned, suite style facility for 258 students and faculty. It offers double and single rooms with semi-private baths. Bathroom facilities are connected to the suite and are shared by the flatmates. Custodial staff clean and inspect bathrooms on a weekly basis. For more information, check Dormitory at Korea University.
Average Monthly Living Costs
| | |
| --- | --- |
| Accommodation | 350,000 to 550,000 KRW |
| Food | 80,000 to 400,000 KRW |
| Cellphone | 200 to 6,000 KRW |
| Transportation | 3,600 to 90,000 KRW |
The won is the currency of South Korea. ₩1 KRW ≈ $0.001 CAD.
Visa
A valid student visa (D-2) is required for all international students. Upon acceptance to university, students will be issued an acceptance letter and certificate of admission. These documents are needed when applying for the D-2 visa. To find your nearest Korean Embassy or Korea Consul General, please visit the Korean Ministry of Foreign Affairs website.
Additional Information:
Korea University
Seoul Tourism Official Site
Korea Tourism Official Site