FHWien der WKW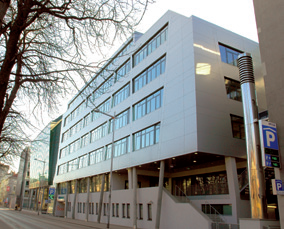 FHWien is located in Vienna, the capital city of Austria. FHWien provides proven academic programs, paving the way for students' career launch. Over 2,400 students are currently enrolled in Bachelor's (BA) or Master's (MA) degree programs. Also there are approximately 4,500 graduates from this university.
Courses
The bachelor degree programs offered include: Corporate Communications, Journalism and Media Management, Tourism Management, Business, Finance, Marketing and Sale, and Human Resources. English language options are offered.
Housing
Most exchange students sign up for a room in a dormitory, such as the ÖAD dormitories (Austrian Exchange Service). Exchange students are encouraged to book rooms at the residence Molkereistraße 1, 1020 Vienna, as the building and its inventory are relatively new and modern. Internet and cleaning are included in the cost, which ranges from about €400 to €500.
Average Monthly Living Costs
Accommodation

€400 to

€500

Food

€25

0

Cellphone

€3

0 to

€40 (

€

0.07 per min

)

Transportation
€200

The Euro is the currency of Austria. €1 EUR ≈ $1.45 CAD.
Additional Information
FHWien der Wirtschaftskammer Wien
FHWien Welcome Guide for International Students(.pdf)