Aarhus University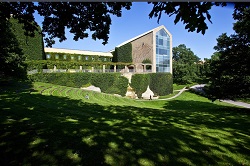 Aarhus University is Denmark's second oldest and the largest university with approximately 39,000 students and 6,000 faculty and staff. Among over 17,000 universities world-wide, Aarhus University is ranked in the top 100 by several influential rankings.

Courses
Over 30 subjects within the fields of Humanities, Theology, Science, Health Sciences and Social Sciences at both the Bachelor and Masters levels are taught in English.
Housing
It is not easy to find accommodation in Aarhus, as finding housing in Aarhus can be both difficult and time consuming. Housing is available for international students. Exchange students, executive MBA students and Erasmus Mundus students can apply for housing in Aarhus through The International Centre's housing department. For more information, please check International Housing Office.

Average Monthly Living Costs

| | |
| --- | --- |
| Accommodation | 1,800 to 3,500 DKK |
| Food | 1,700 to 2,400 DKK |
| Cellphone | 0.7 DKK per min |
| Transportation | 20 DKK per ride (bus) |
The Danish Krone is the currency of Denmark. 1 DKK≈$ 0.197 CAD.

Residence Permit
Canadians who are planning to stay in Denmark for more than three months will need to obtain a residence permit. You are expected to apply for and receive the permit prior to your arrival in Denmark. Residence Permit Application.

Additional Information
Aarhus University