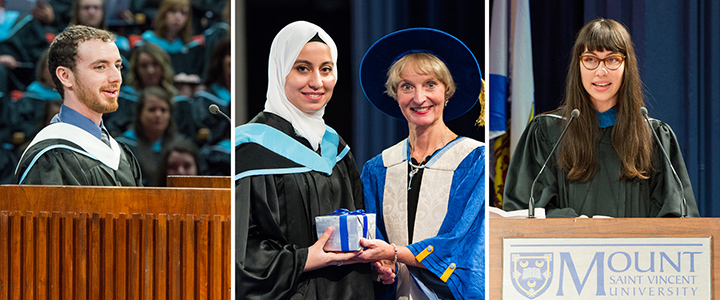 The importance of Valedictorians
Mount Saint Vincent University has a tradition in which a Valedictorian is selected to deliver the farewell address at each of the convocation ceremonies. The valedictory address is always a highlight of the convocation ceremony. Nominating is an opportunity for you to have a voice in shaping this part of your graduation ceremony.
Important Notice for Fall 2020 Virtual Convocation Ceremony
The Fall 2020 Virtual Convocation Ceremony will highlight Valedictorians from the Spring and Fall graduating classes.
Fall 2020 graduates have until September 25th at 4.30 p.m. to nominate Valedictorians for the Fall 2020 graduating class. Those nominees selected by the Valedictorian sub-committee of the Committee on Academic Planning and will have their valedictorian speeches recorded and posted to the Convocation web page. Additionally, highlights of the speeches will be included in the virtual convocation ceremony.
Eligibility
To be eligible for selection, nominees must:
• have a minimum GPA of 2.7 in the most recent five units of coursework and;
• have made significant contributions to extra-curricular activities at the Mount and/or community-at-large.
A sub-committee of the Academic Policy and Planning Committee will review the nominations along with the students' academic records and present the candidates for Senate approval. Final notification will be sent to the students who are selected to be the Class Valedictorians.
Submitting your nomination
Fall 2020 Graduands:
Please complete the Valedictorian Nomination Form Fall 2020 (PDF) and submit by September 25, 2020 at 4:30 p.m.to the Deans' Office by email: cathy.lantos@msvu.ca, or mail to:
Mount Saint Vincent University
Seton Academic Centre, Room 302
166 Bedford Highway
Halifax NS B3M 2J6