Kendra Brown Physiotherpaist
Kendra, originally from Lower Sackville NS, graduated with a Master's of Science in Physical Therapy from Queen's University in 2014, after completing her Bachelors of Science in Kinesiology from the University of New Brunswick.
Kendra believes in an individual, comprehensive approach to her treatment plans. Which include hands on manual therapy techniques, with supplementation via an active home exercise program, soft tissue release, ongoing education, dry needling, and modalities as needed for pain, inflammation and muscle activation. Her ultimate goal is to improve movement patterns, functional well-being and quality of life for her patients, while preventing further injury.
Qualifications:
Complete Concussion Management Re-Certification – 2017

Yoga Tune-Up Core Immersion – 2017

Specific Functional Movement Assessment Level II – 2017

Specific Functional Movement Assessment Level I – 2017

Yoga Tune-Up Level I – 2017

KinetaCore Functional Dry Needling Level I – 2016

Complete Concussion Management Certification – 2016

Yoga Alliance RYT200: Ashtanga and Vinyasa Flow – 2016

K-Taping Pro Course – 2015

Concussion Management Workshop with Shannon McGuire – 2015

Vestibular Rehabilitation with Bernard Tonks – 2015

Sports First Responder with CPR/Standard First Aid – 2014

Hockey Trainers Certification Program Level III – 2014

Level 1 Manual Therapy Certification – 2014

Soft Tissue Release Course with Jim Bilotta – 2014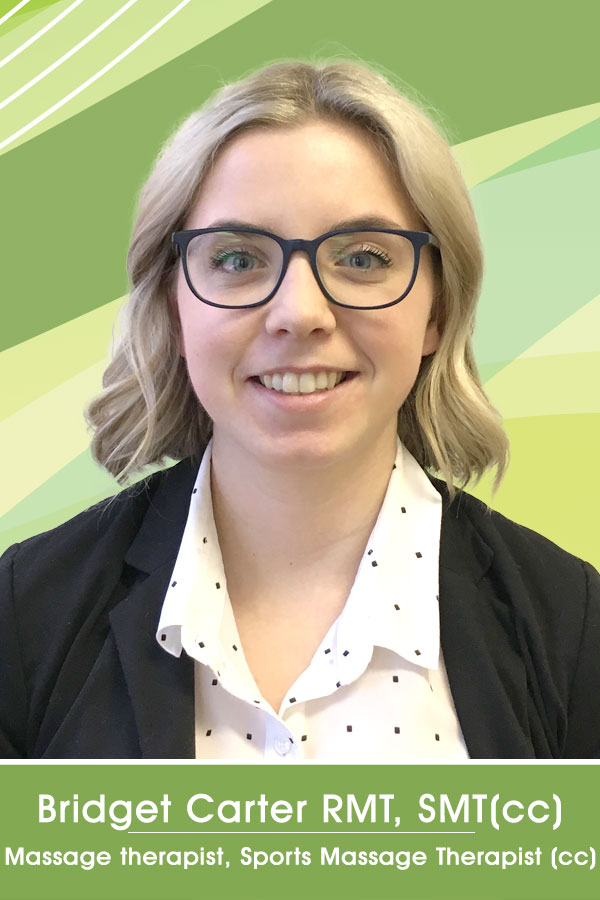 Bridget Carter RMT, SMT(cc)
Bridget is a recent graduate from the Canadian College of Massage and Hydrotherapy, class of 2017 and is a member in good standing of the Massage Therapists Association of Nova Scotia as well as the Canadian Sport Massage Therapist Association.
Originally from Prince Edward Island, Bridget studied Psychology at the University of Prince Edward Island and was a competitive Synchronized Swimmer for 12 years. She also has experience coaching athletes from a recreational to elite level.
During her time as a student she has had the opportunity to work with many different sports such as Rowing, Powerlifting, Swimming, Hockey and Running and enjoys helping athletes with injury prevention and maintenance using a variety of massage techniques. Bridget is a current student member with the Canadian Sport Massage Therapy Association and is looking forward to working on her Sport Massage Therapy designation.
Team Therapist for:
MSVU Women's Soccer Team, MSVU Men's Soccer Team, MSVU Women's Basketball Team, MSVU Mens Basketball Team
Qualifications:
* Cupping Therapy- 2017
* Sport First Responder- 2017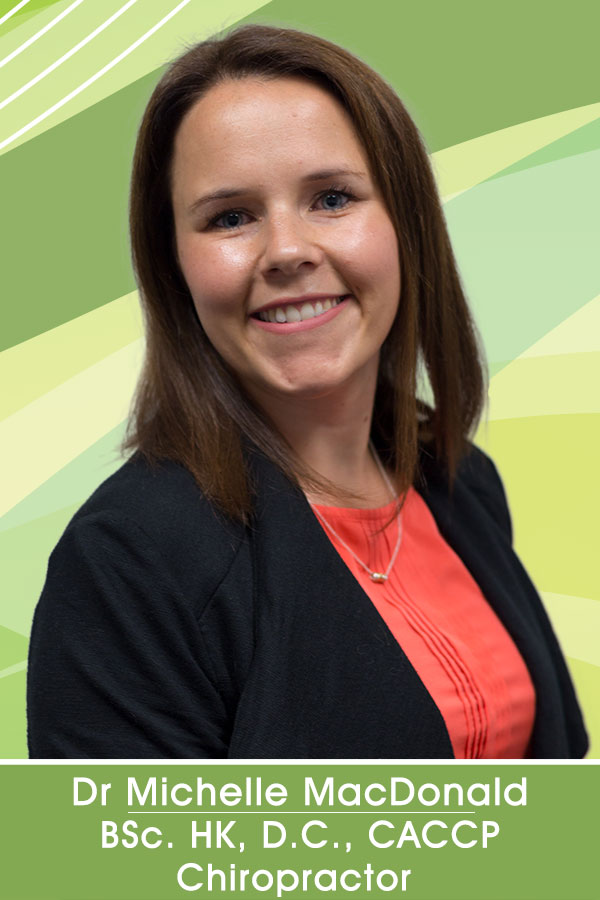 Dr. Michelle MacDonald BSc. HK, D.C., CACCP
The ONLY Chiropractor in Atlantic Canada who has her CACCP designation- International Chiropractic Pediatric Association to specialize in preconception, prenatal, postnatal and pediatric chiropractic care.
Dr. Michelle MacDonald graduated from the Canadian Memorial Chiropractic College in 2010 cum laude and clinic honours. Upon graduation, she received the Gilbert H. Young Memorial Award for attaining the highest average in her clinical year. Dr. MacDonald has spent the past 7 years working in Toronto and is finally happy to return back to the beautiful province of Nova Scotia. She was born and raised in Brookfield, NS and then achieved her undergrad degree at St. Francis Xavier University.
Dr. MacDonald spent 5 years taking courses and studying with The International Chiropractic Paediatric Association to specialize in preconception, prenatal, postnatal and paediatric chiropractic care. In 2016, she finished her research and completed her paediatric exam to obtain her CACCP designation through the Academy of Chiropractic Family Practice. Dr. MacDonald is currently the only Chiropractor in Atlantic Canada to hold this designation.
Dr. MacDonald was also fortunate enough to work with the College of Chiropractors of Ontario in Quality Assurance as well as, providing Corporate Wellness for the Canadian Chiropractic Association.
Dr. MacDonald is an avid curler and golfer which helps drive her passion to helping the people within her community live an active, happier and healthier lifestyle. She participated in the 2015 Para Pan Am Games on the medical team and has a wealth of experience treating dancers, curlers and golfers which will serve the athletes well at MSVU.
Qualifications:
* CACCP Certification- Pre/Post Natal Care & Pediatric Care- 2017
Graston level 1
Kinesiotaping 2010
Activator 2010
Diversified technique 2010
Extreme adjusting 2010
Clinical acupuncture 2010
Guasha 2010
Cupping 2010
Whiplash and concussion management 2010
Webster technique certified 2011
Short lever adjuster 2012
Sacral occipital technique spinal and cranial 2012
Thompson technique 2012
Pediatric health 2012
Logan basic technique 2012
Advanced functional needling 2018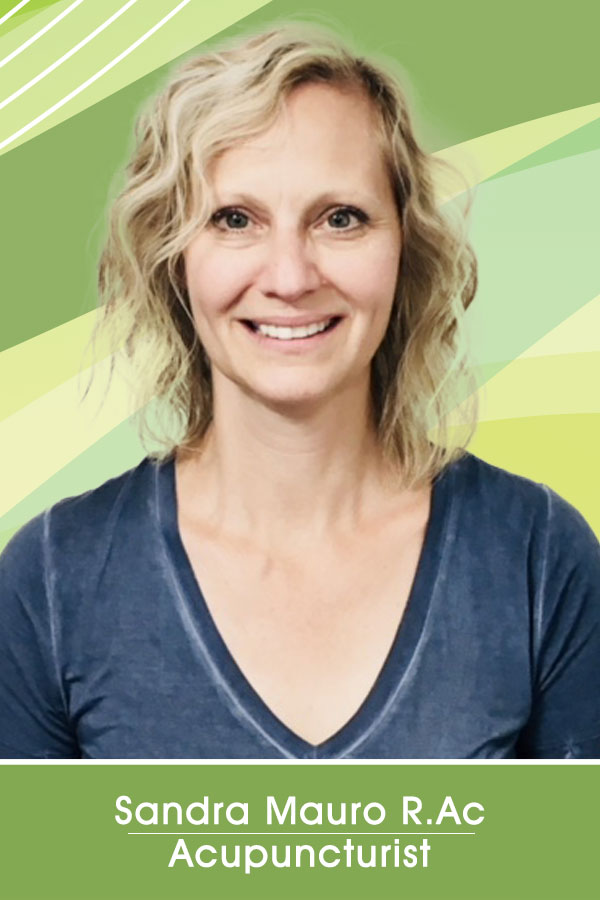 Sandra Mauro, Acupuncturist/TCM
Healing naturally with Acupuncture…the Traditional Chinese Medicine way
Sandra Mauro is a Registered Acupuncturist with a Diploma in Traditional Chinese Medicine Acupuncture from the Ontario College of Traditional Chinese Medicine in Markham, Ontario. In addition to the 2100-hour course and 600 hour clinical training, Sandra completed 3 years of clinical internship. Sandra also holds many additional certificates as her commitment to continuous learning, such as Advanced Cosmetic Acupuncture, Chinese Medicinal Massage, Medical Qigong Therapy, Shiatsu and Hot Stone Therapy.
Sandra is an active member of the Chinese Medicine & Acupuncture Association of Canada (CMAAC) National and the Nova Scotia Chapter (CMAAC-NS). She is also a volunteer board member for CMAAC-NS. Sandra has been practicing in Nova Scotia since May of 2016.
Sandra discovered the power of Acupuncture after a life-changing event in which her husband suffered a heart attack followed by a severe stroke at the age of 47. During his long journey of recovery, Acupuncture had become a primary treatment plan, which produced positive results. This was the inspiration that began the journey to study Traditional Chinese Medicine & Acupuncture. Sandra now aspires to help others discover the benefits of Acupuncture & Traditional Chinese Medicine in their own healing journey.
Qualifications:
Wu's Head Massage Level 1 (Chinese Medicinal Massage) Certificate- 2015

Medical Qigong Therapy Practitioner Level 1 Certificate- 2015

Acupuncture During Labor and Delivery Level 1 Training Certificate- 2015

Advanced Cosmetic Acupuncture Certificate- 201

Hot Stone Therapy Practitioner Certificate- 2014

Basic Shiatsu Training Certificate- 2013

Yoga for Golfers Level 1 Teacher Certificate- 2013

Hatha Yoga Advanced Training and Teacher Training Certificates- 2011

Integrative Yoga Therapy for Seniors Teacher Training Certificate- 2011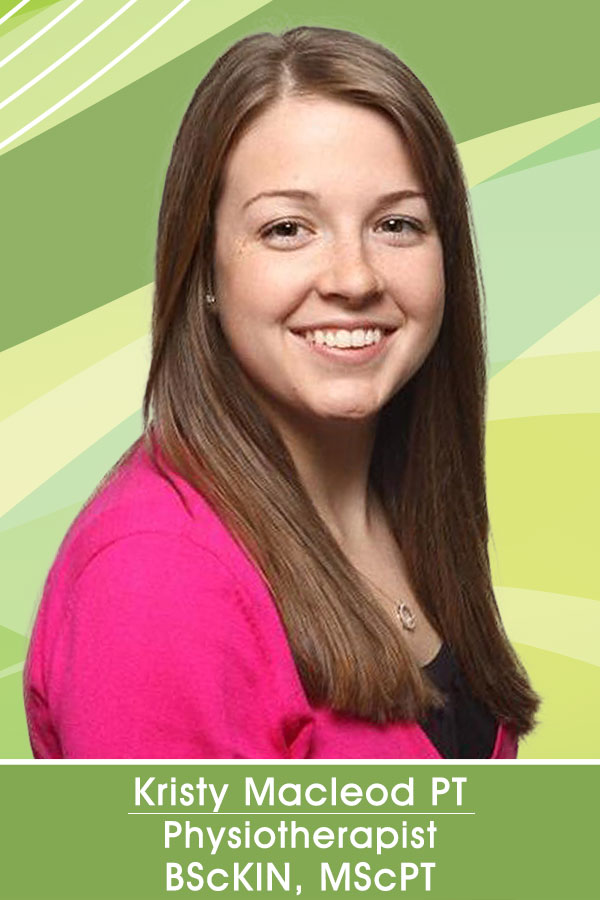 Kristy MacLeod, Physiotherapist
Kristy completed her Master's of Science in Physiotherapy at Dalhousie University in 2013, after completing her undergraduate degree in human kinetics at St. Francis Xavier University in 2011. Kristy has worked in orthopaedic practice since she began her career.She has worked in a multidisciplinary clinic with a wide variety of patient populations. She believes in completing an in-depth assessment find the cause of the issue and then working with the clients one on one to treat the issues and prevent future injury. She uses a hands-on treatment approach, along with needling, therapeutic exercise and modalities to decrease pain and increase overall function. Kristy believes education is a key component to recovery and empowers clients to prevent future injury. Participating in sport and living an active lifestyle has been a major part of Kristy's life. In her spare time, she enjoys playing soccer and basketball, swimming, hiking and camping. Kristy believes being active daily and maintaining your physical health is a key factor in overall wellness. Through her physiotherapy treatment she hopes to give people the knowledge they need to achieve their goals and succeed in their physical well-being.
Qualifications:
Mackenzie part A 2017

Vestibular rehab 2016

Biomedical dry needling 2015

Acupuncture level 2 2014

Sports Module: common sports injuries, functional testing and running assessments 2014

Evidence based diagnosis and management of musculoskeletal pain- chronic pain science 2013

Acupuncture level 1 2013