A Warm Welcome!
Welcome to your Early Advising and Registration web resource! We are delighted that you have selected MSVU as your University. We look forward to supporting you in your first year and throughout your entire program! Below, you will find the steps for course selection and registration and other helpful information to assist you as you prepare for your first year of studies at MSVU.
Getting started with Early Advising and Registration
Step 1 – Activate your Student Account
Email confirmation@msvu.ca to let us know you're attending MSVU.
Step 2 – Retrieve your MSVU Username and Password (hold on to them – you'll need them later!)
Your username and password are typically sent to you from the IT&S Helpdesk via the email address you used when you applied to MSVU. This email is sent to you after you receive notification of your acceptance to the University. If you do not have your username and password, contact the Information Technology & Services helpdesk@msvu.ca. The IT&S Helpdesk responds to messages between Monday and Friday, 8:30 am – 4:30 pm.
Helpful Tip: Your username is the first initial of your first name and your full last name. It may or may not have a number after it (i.e. ccrow or ccrow10).
Step 3 – Access your Early Advising and Registration Guide
You can either download the Early Advising and Registration Guide 2021-2022 (PDF) if you wish to print it out and fill out the timetable and take notes at home, or you can access the same information that is in the PDF file on this accessible webpage.
Program planning sheets for all undergraduate degree and diploma programs are included in the guide and on the webpage. These sheets tell you which courses you need to take in your first year. Be sure to find your program planning sheet and review it.
Also, you will find a list of courses open to first-year students at the back of the document. Go through this list of courses and highlight the ones that interest you.
 Video: Exploring the Early Advising and Registration Guide
Note: the guide will look slightly different in the video as some pages with images were removed when uploaded to the website due to file size. 
Step 4 – Select and Schedule your Courses
A) Use the program planning sheet in your guide, along with the list of courses open to first-year students (also in your guide) to select the courses you will take in your first year. Select two or three back-up choices for each semester…sometimes, courses fill up quickly.
Helpful Tip: Use the Early Advising Academic Calendar read course descriptions. This will help you decide which courses you wish to take.
B) Use the MSVU App or the Registration Centre in myMount  to search for the courses you want to take. Some courses and labs will have multiple sections. Choose the section at the time that works best for you.
You can use these blank schedule templates  to create a schedule. By using the templates to schedule your courses as you go, you will ensure that you are not selecting courses at conflicting times. See Step Six below for videos on how to use the App and myMount to register for your courses.
 Video: Selecting and Scheduling your Courses using the Early Advising and Registration Guide and the Mount App or MyMount
Helpful Tips:
Most courses are 0.5 unit. This means they run for one semester. Some courses are 1.0 unit. This means they run from September to April.
Most on-campus courses take place two times per week for one hour and fifteen minutes. Evening courses are usually one night per week for two and a half hours.
We offer a variety of online courses every semester whether there is a pandemic or not. Typically, online courses are identified by their section numbers (ex. 18, 19, 20, etc.). Online courses may be offered in a variety of ways. Visit our online learning department to learn more about the different course delivery modes.
Step 5 – Register for your Courses
One of the easiest ways to register for courses is to use our convenient MSVU App. After you have downloaded Ellucian Go, Check out this video that explains how to use the app to register for courses.
You can also register for courses through the Registration Centre in your myMount account.
Congratulations! You've made it to the final step in the Advising and Registration process! If you still have questions, book an online appointment with an academic advisor between May 26-May 28, or contact advising@msvu.ca to arrange to speak with an academic advisor by email, telephone, or Microsoft Teams.
Want to Live in Residence?
Apart from the convenience of living close to all campus resources (e.g., library, dining hall, campus security, and gym), you also have the opportunity to become more involved in campus life.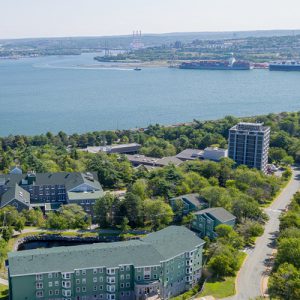 ---
Frequently Asked Questions
1. I am a 2+2 Transfer Student and I am wondering who I should speak with about course selection and Registration.
Contact our Transfer Student Coordinator, Cindy Huelin, for support with course selection and registration.
2. I plan to register for a

French

course; how do I know which one to take?
Normally, students take a French Placement Test in our Language Lab on campus; however, since this is not currently an option, the Department of Modern Languages has developed this helpful resource to determine which course to take based on your previous experience with French.
2. I need to take a

Math

course for my program; how do I know if I am prepared to take it?
If you require MATH 1113 (Calculus 1) and MATH 1114 (Calculus 2) or MATH 1102 (Precalculus 1) and MATH 1103 (Precalculus 2), you will need to complete a Math Placement Test to ensure you know which level of Math to enroll in. You will receive information from the Math Department about when you can write the placement test. You can register for your Math courses before taking the placement test and make any necessary course changes after taking the placement test.
If you require MATH 2208 (Intro to Statistics 1) and MATH 2209 (Intro to Statistics 2) for your program, the prerequisite is Grade 11 or Grade 12 academic Math.
If you have not completed Grade 11 or Grade 12 Academic Math, and require it to meet the admission requirements for your desired program, and/or a course prerequisite, you can enroll in MATH 0027 (STATS and MATH Preparation). This is a non-credit course. You register for it the same way you register for all other courses.
3. What is the maximum course load per semester?
Five courses is the maximum course load per semester. Students must be in at least three courses per semester to be full-time. If you are registered with Accessibility Services, you must be registered in at least two courses per semester to be full-time.
4. I want to do a reduced course load in my first term; however, I want to stay on track to complete my degree in three or four years. What options do I have?
Some students do a reduced course load in the fall and winter semesters and choose to do summer courses to stay on track to complete their program on time. Registration for summer courses opens in January.
5. I am experiencing difficulty selecting my courses; who should I speak with?
Book an appointment online using our Early Advising Booking Page between May 26 and May 28th, or contact advising@msvu.ca to be connected with an academic advisor.
Take a Virtual Tour of Campus
Follow along as MSVU students Liz, Rex, Raf and Kathleen take you on a guided tour!
Interested in Residence? Check out our campus tour videos for each of the residences:
Talk to a Current Mount Student!
Selecting and registering for courses is an important step; however, you probably still have questions. Don't worry – we have answers! If you'd like to chat with a Mount Mentor about what it's like to be a Mount student and how you can make the most of your first year, contact mount101@msvu.ca.