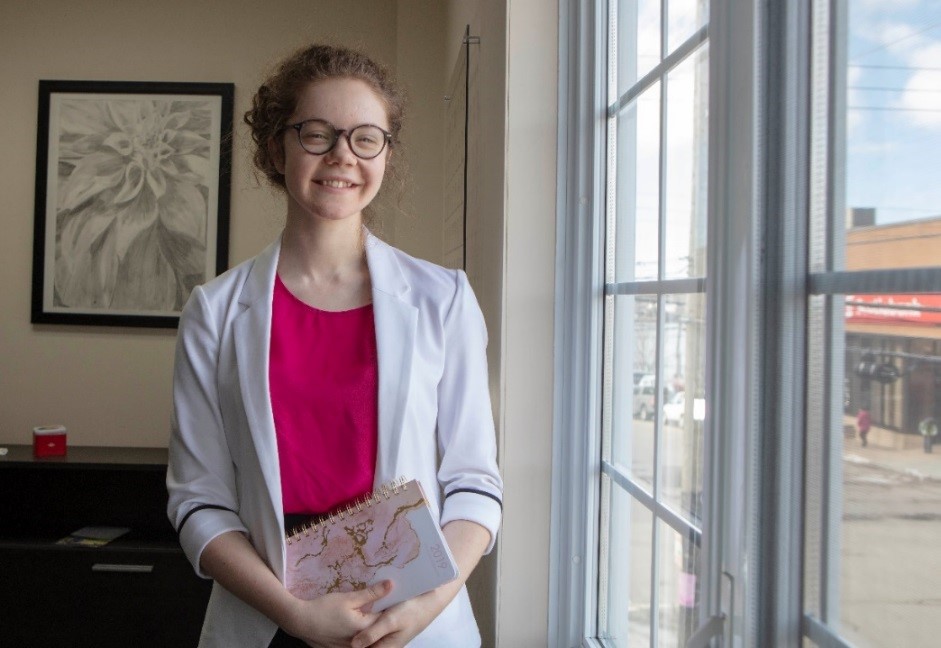 Meaghan Bartlett graduated from Mount Saint Vincent University with a Bachelor of Science Communications in May 2018. After graduation, she entered her current position as a Research Associate at the Cornerstone Group Research Inc. in Cape Breton.
(The government's Graduate to Opportunity program, a youth hiring incentive, assisted Cornerstone Research Group in hiring Meaghan and another recent graduate. An article about the topic can be found here.)
"I really enjoyed my time at the Mount," says Meaghan. "Science Communications gave me a unique experience, blending two traditionally separate areas of study. I had opportunities to apply my knowledge through co-op and class projects with real-world clients, and this gave me the confidence to believe I could be successful outside of a scholastic setting. I also appreciated how supportive and encouraging MSVU's staff and professors were. They were a big part of how enjoyable it was!"
As a Research Associate, one of Meghan's main responsibilities is performing systemic literature reviews (a way of compiling data from relevant literature on a topic to answer a question!) She also writes manuscripts for publication in scientific journals, usually focusing on sharing the results of analyses or the methods behind them.
"My favourite project that I've worked on so far is a whiteboard animation explaining a statistical concept – making the material simple enough to understand in written, oral and visual formats was an exciting and creative challenge," says Meaghan.
Cornerstone Research Group works with pharmaceutical companies and medical devices' companies to provide data analysis, evidence synthesis and value communications. The company is involved in health economics, including cost-effective and budget impact analyses, as well as reimbursement submissions.