The Team Player
At the Mount, we pride ourselves on being a small campus with big opportunity. It is our hope that each of our students has the chance to pursue their individual interests and make their time with us their own. But what makes a Mount education truly unique and enriching? In many cases, it is the people here, people sharing their passions so that others can cultivate their own— people like Allison Saunders.
Allison joined the Mount community in 2003 for her Bachelor of Arts degree, and over the next four years she would hone and celebrate her talents both in and beyond the classroom. She was a prominent champion on our varsity women's volleyball team— captain for two years, and MVP in her final year— an enthusiastic writer in our English department, and an on-campus residence student for all four years. Allison made her mark on the Mount campus in many ways, and in turn, the relationship she built with the University and its community left a lasting impression on her.
"The Mount is this place where any idea can be a good idea, because of the amazing support there," Allison adds, "Being part of a team is very important to me, both personally and professionally. As a small school with small classes, the Mount really embodies that, and it really is like being part of a big team."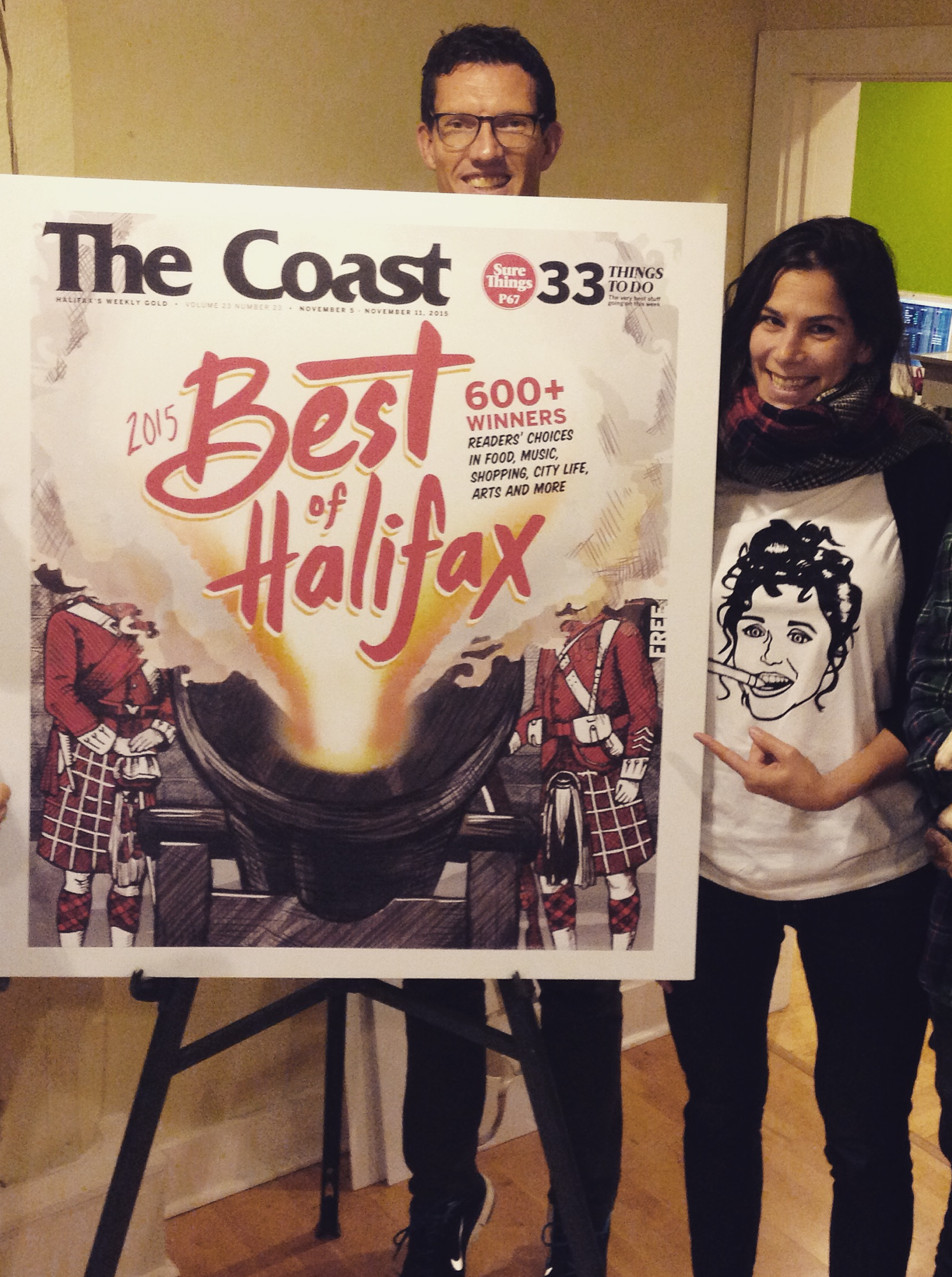 After completing the year-long journalism program at King's, Allison decided that before she started writing for the world, she wanted the chance to see it first. Traveling to Europe, Allison worked as an au pair (nanny) in Italy before backpacking with fellow Mount grad, Jessie Hannah. When she returned to Nova Scotia, Allison joined The Coast as a Listings Editor.
"I had actually interned at The Coast during my time at King's," Allison explains, "Now I am Deputy Editor and I feel very lucky to be working for an independent newspaper that fosters creativity."
Allison has made The Coast her home since 2011, and has even won an Atlantic Journalism Award for her work. But when she decided to take a leave from The Coast for another bout of travel, Allison again found herself in the company of her Mount connections when she ended up volunteering with Habitat for Humanity in Santiago, Chile, on a project coordinated by none other than her former Mount volleyball coach, Susanne Dittmer, and volleyball teammate Chelsea Whitehead.
To this day, Allison's love for writing and travel are complemented by a deep passion for sport, and she maintains a strong connection not only to volleyball, but specifically her fellow athletes and friends from the Mount.
"I personally credit June Lumsden (Athletic Director) for keeping us all in sport," Allison notes, "she has been a huge mentor for many of us."
A regular competitor on community volleyball
leagues hosted on the Mount campus, Allison has come full-circle and also spends her time fostering the talent and passion in others as a high school and club coach.
"I never really thought I was a technical enough player to coach but I pushed myself to do it, and step out of my comfort zone a bit," Allison says, "I think it's so incredibly important that young female athletes have female role models to learn from, especially early in their careers. Teaching young women about confidence, competition and team work has been more rewarding than I ever expected." (Allison, 3rd from left, with her Bedford Blizzard Club coaches after leading the team to a National title)