The History of Folia Montana
First developed by the Mount Saint Vincent Academy in 1915, Folia Montana was derived from the words "Folia" meaning "leaves" (of a tree/yearbook) and "Montana" meaning "mountain" (the Mount). Folia Montana has reached a circulation of more than 17,000 and maintains and strengthens the connection among alumni, friends and MSVU through coverage of newsworthy accomplishments, discussion of campus issues, information on Alumni Association activities and the sharing of class notes.
2021 Magazine Distribution Update
The 2021 edition of Folia Montana is now available online.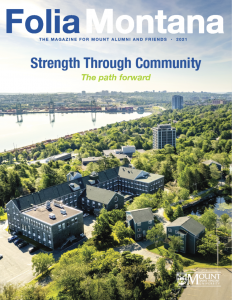 Please note that moving forward the alumni office will physically print a reduced number of Folia copies in an effort to reduce our carbon footprint and environmental impact. This decision was informed and supported by your responses to our feedback survey (sent in Winter 2020) about potential changes to our magazine distribution. Unless otherwise requested, we will only be mailing Folia Montana to folks who graduated in/prior to 2000.
Please reach out to alumni@msvu.ca if you have any questions or concerns.