A Legacy of Giving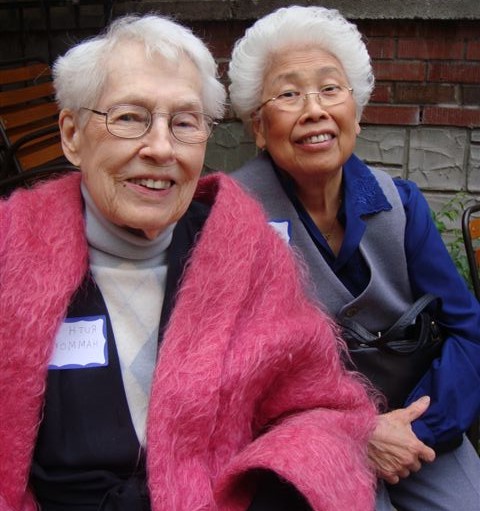 Ruth Hammond is pictured left with MSVAA Toronto Chapter President Shirley Forde.
MSVU's Public Relations program has witnessed an extraordinary boost as the beneficiary of two bequests (gifts in wills) from the Estates of Ruth Hammond and Ivy (Robbins) Oakley.
Born and raised in Toronto, Ruth Hammond was regarded as a public relations pioneer with a career spanning more than 50 years as a teacher, journalist and public relations consultant. Among her many accolades and awards, Ruth became a member of the Canadian Public Relations Society (CPRS) in 1956 and was the first woman to receive her accreditation in public relations (APR). In 1998, Ruth received an honorary doctorate for her work in public relations education from the Mount. She was made an honorary fellow of the CPRS College of Fellows in 2001 following its establishment.
"Ruth left us on October 16, 2015 after an amazing life journey," said Barbara Sheffield, APR, FCPRS, first woman to become national president of CPRS, and former executive director of the Communications + Public Relations Foundation. "Ruth wanted to ensure that PR practitioners would support public relations education during their careers through scholarships and awards that recognize achievement and contribution to the profession. The Ruth Hammond Scholarship established by those she mentored is a testimony to her commitment to public relations education and the leadership of women."
Ruth remembered the Mount in her will with a general bequest or specific dollar amount designated to the scholarship established in her name.
"Originally established with the Communications + Public Relations Foundation, the scholarship funds have been transferred to the Mount and we hope that Ruth's friends, colleagues, PR Professionals, and previous scholarship recipients will continue to contribute to this scholarship and help keep Ruth's passion for leadership and education alive for many years to come," adds Barbara.
For more information about making a gift in your will, please contact Anne Thibodeau, Manager, Philanthropy at 902-457-6270 or anne.thibodeau@msvu.ca. To contribute to the Ruth Hammond Scholarship, please contact Kari Shannon at 902-457-6764 or kari.shannon@msvu.ca