Watching a loved one grow sick is never easy. The physical and mental pain suffered by the individual and their family is exhausting, often leading to a sense of hopelessness. Jessica Spruin remembers that feeling all too well, as she watched her Grandmother's Alzheimer's disease condition worsen.
"I saw how it affected my Nanny, her daughters and eventually the grandchildren. It's a very emotional disease for everyone involved," explains Jessica. "When you're there and they don't remember you – that's really hard."
So when an opportunity to help other families affected by Alzheimer's arose while studying at the Mount, Jessica knew she needed to work on the project. However, as a fourth-year student majoring in biology with a minor in chemistry and math, working toward a Masters while maintaining a scholarship and holding down two jobs, taking more on seemed impossible.
Regardless of the pressure, Jessica pushed on for a chance to take part in the project. After requesting special permission from Mount faculty researcher Dr. Ian Pottie, Jessica was finally approved to participate in one of the many groundbreaking initiatives currently happening at the Mount – the Alzheimer's disease project.
The Alzheimer's disease project is a cutting-edge research initiative that has the potential to lead to early detection of the disease in living patients. Having this capability would result in an earlier diagnosis for the patient, ultimately allowing families to get their loved ones the proper care and treatment they need. The research is being conducted in the Mount's new Centre for Applied Research in Human Health, in collaboration with Dalhousie University.
Under the supervision of Dr. Pottie, Mount professor emeritus Dr. Earl Martin and Dalhousie University researcher Dr. Sultan Darvish, Jessica has been conducting a one year directive-research project as a sub-component of the Alzheimer's disease project. Having personally experienced the hardships that follow with the disease, she says the impact of this research on those affected is immeasurable.
"It's a problem that affects millions of lives and there's no way to diagnose it until post-mortem," Jessica explains. "There needs to be a better understanding of Alzheimer's so families can have a greater chance of early diagnosis and get them the proper treatment and care. The work that's being done in the new Centre has the potential to change lives."
Jessica's own research branches off of the Alzheimer's disease project, specifically focusing on the relationship between butyrylcholinesterase (BCHE) enzymes, which are associated with pathological characteristics of Alzheimer's disease, and sex hormones found to show protective properties against Alzheimer's. Jessica says it's been an amazing experience getting to work on a project so close to her heart.
"There are so many great programs at the Mount that need funding so that students like me can participate," says Jessica. "Not only do we need the experience, but researchers need students to help with the work being done in order for them to exceed. Having students participate in the research process is a win-win for everyone."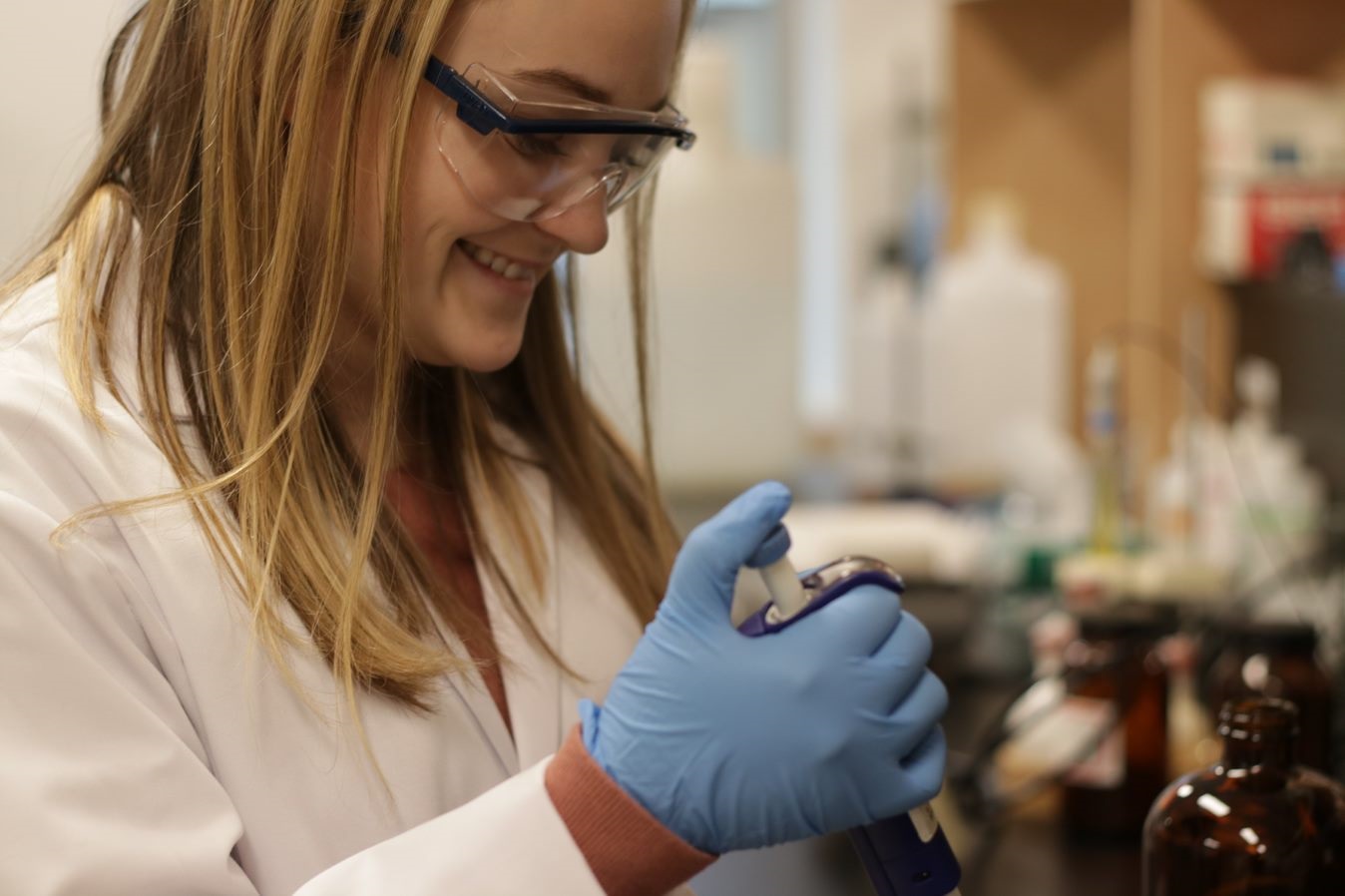 The Mount's previous lack of laboratory space often meant less time for students to spend in the hands-on working environment, and even less opportunity for independent projects such as Jessica's. Thanks to the new Centre for Applied Research in Human Health, there is more opportunity for students to be involved and immersed in the research.
"In the beginning, we were in a very small lab for the majority of the research. It was about a third of the size of the new Organic Synthesis and Biochemistry Lab in the new Centre," says Jessica. "It was so tight and cramped before, but now we have our own space."
Overall, Jessica says the new Centre has been an unbelievable asset to her educational experience. However, she notes that the funding required to maintain such immersive research projects for future students is not lost on her. She gives thanks to the generosity of donors who contribute to the Centre for the experience she's been lucky enough to enjoy.
"When it comes down to it, in order for our researchers to do their work, it requires a large amount of resources, time, space, student research helpers and equipment. All of this requires funding, and if they can't do their research then students can't participate," Jessica says. "That's why I'm so thankful for those donating to this new Centre – it provides a space for students to get hands on learning and participate in life-changing research."
Jessica's project is just one of the many important research initiatives happening at the Mount. While she's thrilled to be able to perform hands-on research that will help change her life, she says it's an even greater feeling knowing she's helping make a difference in the lives of others.
"Having this opportunity really makes me feel like I'm doing something beneficial for those affected. It's incredible being a part of such an important project."