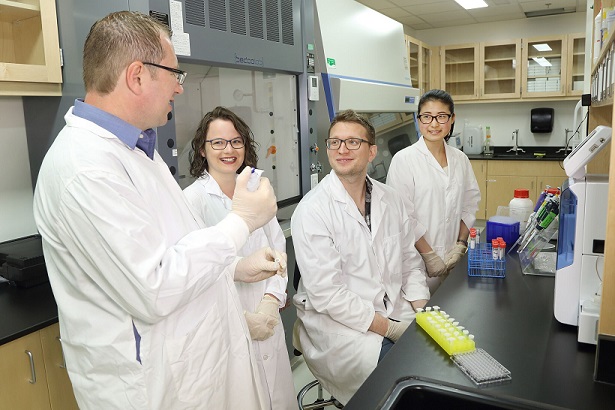 Erik (second from right) with two classmates and his professor Dr. Bohdan Luhovyy (left)
"If it weren't for the new Centre I wouldn't be in the Applied Human Nutrition graduate program. The space provides bio-chemistry research capabilities, allowing me to work on nutrition related projects, for example, looking at milk proteins for blood glucose control that will contribute to an individual's healthier body weight. Without this Centre that would never have been possible – this project is dependent upon this facility."
Erik VanDenboer
Bachelor of Applied Human Nutrition & Master of Science in Applied Human Nutrition
Meet Erik VanDenboer – a Master student in Applied Human Nutrition at Mount Saint Vincent University.
As an active volunteer in the Fairview schools breakfast programs, a bright and enthusiastic student and Mount alum, Erik is passionate about understanding and contributing to the health and wellness of his community. Erik is on the path to helping change lives, and the best part is, you can help him accomplish that by donating to the Mount's new Centre for Applied Research in Human Health.
A shortage in laboratory space has historically resulted in less opportunities for our students to be immersed in the ongoing research projects happening at the Mount. However, the new Centre will ensure additional and better equipped space is available for students like Erik to be part of the research process.
Through support from our alumnae and friends, our Applied Human Nutrition students and faculty researchers can continue conducting groundbreaking research on nutrition-related conditions and interventions ranging from breastfeeding infant and young child feeding, to international nutrition, to prevention and management of obesity, type 2 diabetes, hypertension, and other chronic diseases.
Your generous gift to the new Centre will support research being conducted at the Mount that addresses some of the most significant diseases and conditions affecting human population health. Together, we can change lives through improved health outcomes, better nutrition, more effective diagnosis and treatment of diseases and disorders, and better policies supporting early childhood development.
You have the power to help create a better tomorrow for all of us. Please give today, and help Mount students and researchers bridge the connection between today's life-changing research discoveries and tomorrow's healthier communities.