In interdisciplinary teams, both locally and internationally, Mount researchers address some of the most significant diseases and conditions affecting the human population.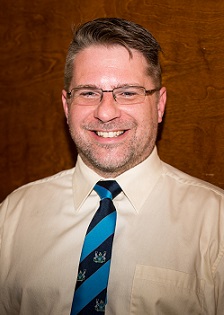 Dr. Ian Pottie, BSC, PHD
The question: How do we refine this molecule – a proven agent for preclinical diagnosis of Alzheimer's disease – to generate the "Halifax Compound" and prepare for clinical trials?
Dr. Pottie is an organic chemist. His expertise lie in imaging agents, asymmetric synthesis, Alzheimer's disease, Henry reaction and Diels-Alder reaction. Collaboratively with Dalhousie researcher Dr. S. Darvesh, he was able to develop a radioactive molecule that binds to a protein associated with Alzheimer's disease.
At present, a definitive diagnosis of the disease can only occur after death and pathological examination of the brain tissue. The groundbreaking research conducted by Dr. Pottie and Dr. Darvesh holds the potential for earlier diagnosis of the disease in living patients, leading to a potentially significant difference in disease management and quality of life for the patient and their family.
Dr. Shannan Grant, PDT, MSC, PHD
The question: How do we effectively develop and deliver nutrition education for people at risk for or living with chronic disease? How do we create STEM education that is "for the people by the people"?
Dr. Grant is a registered Dietitian with experience in clinical, industrial, community and public health settings. Her focus is on nutrition intervention development through hospital-based education and web-based applications, chronic disease prevention and treatment, and maternal and pediatric health.

Dr. Grant develops nutrition interventions for people at risk for or living with chronic disease. Drawing from her previous experience evaluating glycemic index interventions, she is currently working with Dietitians of Canada and Diabetes Canada to update Canadian nutrition resources. She works with local Indigenous and African Nova Scotian educators and scientists to create accessible, community based STEM programming.


Dr. Bohdan Luhovyy, PHD
The question: How can nutrition, food science, physiology, and clinical science come together to support the development and testing of new and staple foods and ingredients?

Dr. Luhovyy's research surrounds nutritional physiology in the areas of functional foods such as pulses, fruit and dairy and ingredients such as flours and powders. With a particular focus on children and youth, his research focuses on how foods and ingredients can improve blood sugar control and contribute to healthier body weight, as well as how these foods and ingredients can be used to create healthier snacks and beverages that assist in prevention and management of obesity, type-2 diabetes, hypertension, and other chronic diseases.




Dr. Kyly Whitfield, PHD
The question: How does a mother's diet during pregnancy and lactation impact infant and child health? What key vitamins are commonly lacking in breast milk in low-income countries? What can we learn from the breast milk of well-nourished Canadian moms?

Dr. Whitfield's research focus surrounds infant and young child feeding, breastfeeding, and international nutrition. This summer she will begin clinical trials to enrich food staples including commonly-used fish sauce and salt with thiamine (Vitamin B1), to combat infantile beriberi in Cambodia. Beriberi is a potentially deadly disease caused by a lack of thiamine in the mother's diet. If mothers aren't eating the vitamin, it cannot be passed on to the baby through breast milk. She is currently working with governments across Southeast Asia to ensure thiamine enriched foods are available in the marketplace due to the prevalence of thiamine-poor diets.