MSVU Alumni Online Framing Store
Our online framing store is now open with a variety of frame options for your degree, diploma, certificate or grad picture.
NEW! This year, you can pre-order your frame and pick it up when you come to campus to get your graduation box (we will frame your parchment on-site!). We are also offering free shipping on all orders within Canada for those not able to make it to campus.
Please note degree parchments and frames are shipped separately so may arrive at different times. Instructions on how to frame your parchment are included with you frame.
If you have any questions, please connect with us at alumni@msvu.ca
Happy frame shopping!
Degree Frames (14 x 18′) – sized to fit a degree parchment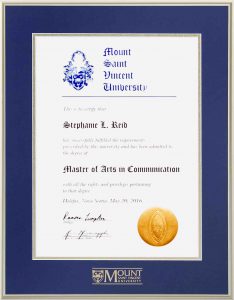 Gold Metal – $85.95 (*also available in certificate/diploma size, 12 x 15′, for $59.95)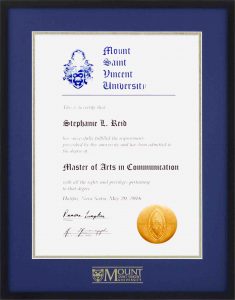 Black Vogue – $95.95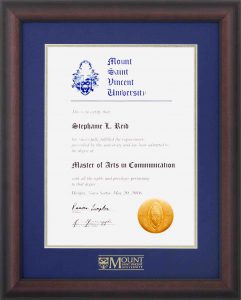 Briarwood – $124.95 (*also available in certificate/diploma size, 12 x 15′, for $89.95)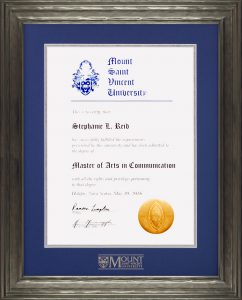 Premier – $144.95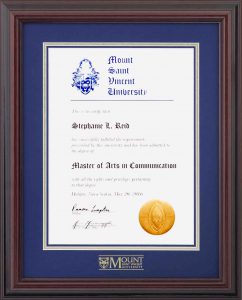 Diplomat – $164.95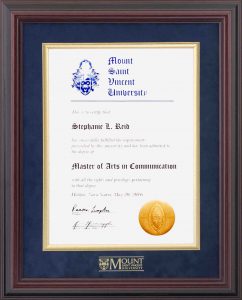 Diplomat Plus
– $214.95
Bundles (includes a 14 x 18′ frame and 11 x 14′ photo frame (fits an 8×10′ picture)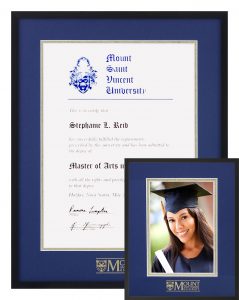 Black Vogue Bundle – $137.95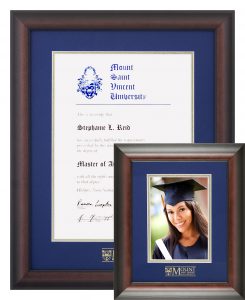 Briarwood Bundle – $187.95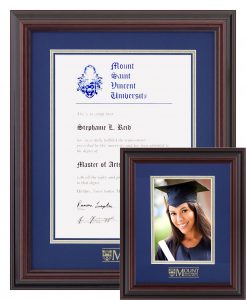 Diplomat Bundle – $233.55