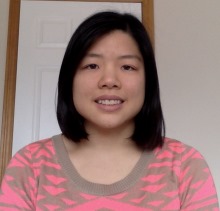 Lillian Lau,
MSC AHN student
"The small class sizes made it very easy for everyone to develop close friendships with both students and professors. These long-term connections are one of the most rewarding aspects of the program."
Lillian Lau is a student in the Mount's Master of Science Applied Human Nutrition program. She's pursuing this degree because she wants to help children by combatting childhood obesity. "I believe that one of the ways this disease can be battled is by improving food labelling policies," she says. "The Mount's MScAHN degree supports my future aspirations by providing me with the research experience I need to develop, implement, and evaluate food programs and policies."
"Employers will know that [the Mount's] students have more than adequate training"
Before beginning her graduate studies in Halifax, Lillian worked as a Bariatric Educator, a position that had her practice her patient-counselling, presentation, and chart-writing skills. Now, she's ready to move into a career in Public Health, and the Mount's MSc AHN program is going to help her achieve that goal.
"Employers in Public Health prefer students who have completed a Master's degree in nutrition, as it signals to them that the students have received adequate education and training."
So why study at Mount Saint Vincent University? "The Mount's program is unique as it allows students to complete a full thesis from beginning to end rather than just a four-month research project, which is what the majority of graduate nutrition programs offer."
And for MSc AHN students who are completing the Internship Education Program, the Mount offers an extraordinary variety of internship placements where students build their professional skills. "I was most surprised by the large quantity and variety of internship placements available," Lillian says. "Community, administrative, and clinical placements allow students to explore traditional and non-traditional dietetic roles."
"I would highly recommend this program to other students"
We asked Lillian whether she would encourage others to apply to the Mount's graduate programs in Applied Human Nutrition. She was enthusiastic in her recommendation.
"I would highly recommend this program to other students because this program equips them with the knowledge, tools, and resources necessary to pursue a career in the field of Dietetics. Furthermore, this program enables students to refine and further develop critical-thinking skills which are essential for any role in the Dietetic field. Lastly, students will definitely enjoy their experience completing this degree while they are in Halifax!"