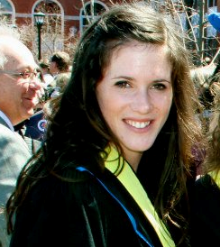 Heidi Stirling
Master of Science Applied Human Nutrition
From the Track to the Table: Student athlete to graduate student in Applied Human Nutrition
Before she was a graduate student at the Mount, Heidi Stirling was a student athlete at Saint Francis Xavier University, where she studied Human Nutrition. As a member of the varsity track and field team, Heidi developed an interest in sport nutrition; for her undergraduate thesis, she studied energy and nutrient adequacy in female endurance runners.
Today, Heidi is working towards her Master of Science in Applied Human Nutrition at the Mount.
A balanced program
Heidi tells us that she chose the Mount's graduate program because she felt the structure of the MScAHN program would help her to achieve her academic and professional goals.
"The thesis component of the MScAHN appealed to my interests in conducting research," she says, "while the internship component offered me the practical experience in dietetics that would allow me to reach my goal of becoming a registered dietitian."
And when she achieves that goal, Heidi plans to continue working in the field of sports nutrition.
"My ultimate goal is to counsel athletes and sports teams on optimal nutrition practices to aid their performance outcomes. I think that the internship component will help me to develop my counseling skills and disseminate nutrition information to the public. The research-based components of this program (course work and thesis) will provide me with the skills to develop an informed understanding of recent sport nutrition advances in the research field, which I hope to share with athletes."
"All professors were extremely knowledgeable, approachable and helpful"
We asked Heidi about her experience in the program. She points to the faculty members who have made that experience particularly rewarding.
"The most rewarding aspects from the program have been the professors at MSVU," she told us. "All professors were extremely knowledgeable, approachable and helpful in facilitating successful completion of the course-based component of the program."
What's more, these professors are a big part of the reason she recommends the Mount's graduate programs in Applied Human Nutrition to anyone keen on pursuing a career in nutrition.
"The variety of components that this program offers (thesis, course work and internship), combined with the helpfulness of the faculty members, will provide students with a unique educational experience that they will most definitely benefit from!"