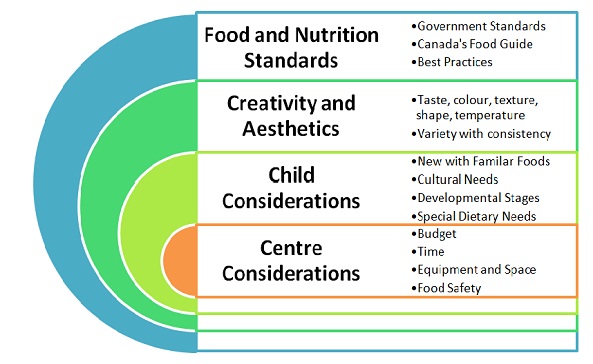 Click here for a printer-friendly version of this model.
This Model represents a consolidation of the main factors that must be considered in planning menu for a child care centre.
The Food and Nutrition Standards are based on Canada's Food Guide and the current regulations and guidelinesdefined in the NS Day Care Act.  We have interpreted these in the Child Food Group Servings and Best Practices resource.
Creativity and Aesthetics are good menu planning practices and are drawn from foodservice texts and resources. While a good visual review of your menu is the best way to assess creativity and aesthetics, the Child Care Centre Sample Menu Template can guide you in planning a menu that has both variety with consistency. The Template also can guide you in planning for approximately 50% of food guide servings for a young child.
Child and Centre Considerations have been drawn from child nutrition research, foodservice texts and valuble input from the Menu Project questionniare and Collaboration Group.
For a summary of the factors see the Explanation of the Child Care Centre Menu Plan Model.