April 2014
Written by: Janelle Aucoin, BPR Co-op Student
Networking in the health industry through co-op work experience helped Mount grad incorporate personal interest with her dream job in Cape Breton.
Erin Forsey, BPR'08, praises the co-op work experience she received at Mount Saint Vincent University. "I always wanted to return home after finishing university" Forsey says. "So, I knew completing work experience in Cape Breton would help me create contacts when the time came for graduation – and it worked!"
Forsey's family and friends live in Sydney, NS, where she grew up. She says that she was involved in the community before she left to study at the Mount. Being a lifeguard in the summer at local beaches and teaching swimming lessons at the local YMCA is how Forsey began being involved with the community and promoting an active lifestyle.
She is currently a member on the board of directors at the YMCA and is also a volunteer fitness class instructor, but the project she is most proud of is facilitating the "Learn to Run" program since 2008. The eight-week program is a cost-friendly incentive to members of the community, from children to the elderly, to encourage a healthy lifestyle by learning to run thanks to volunteer leaders. The first year 50 people signed up, the next year the number doubled, and since then the average number has been 200. This year, Forsey was awarded a community development award for her work concerning the "Learn to Run" program. "The award has been sitting on my kitchen table ever since" Forsey laughs.
Forsey doesn't only encourage others to be active, she practices what she preaches. She has ran in the Boston Marathon twice and competed in multiple triathlons and half marathons.
Last year she participated in an Ironman triathlon, after sustaining a broken wrist, which led to surgery. Forsey still participated in the triathlon and was told that she was a motivation for her fellow athletes, and was bursting of pride.
While in the co-operative education program, Forsey was able to do her three co-ops in the health field. It was when Forsey worked with the Cape Breton District Health Authority that she met her mentor, Greg Boone, the district's Director of Public Affairs. She continues to work alongside of him today as a health promotion coordinator with Public Health Services in the Cape Breton District Health Authority.
Forsey uses the skills she gained from her time at the Mount, connecting health issues and how they can impact healthy lifestyles through communication with key stakeholders and publics. Her personal interest in health, coupled with a great mentor lead her do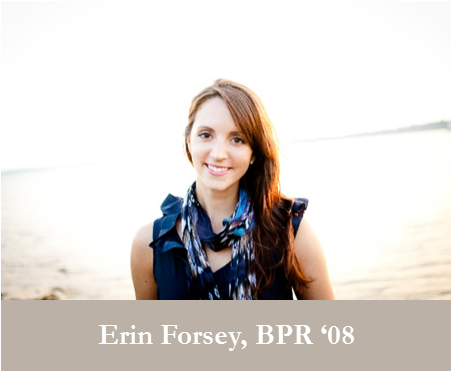 wn this career path.
Forsey keeps her personal interest in mind at work. She is a part of Public Health's Healthy Communities Team, where her proudest moments at work was being a part of the H1N1 flu response team in 2009. Cape Breton has the highest rate of immunization in the province because of their hard work in promoting the vaccine and flu clinics. "It involved tremendous amount of team work, skills in crisis communication and adaptability. I feel like if I can survive H1N1 campaign, I can survive anything!"
Forsey is thankful for the opportunities she had while being part of the BPR co-operative education program. "It's a wonderful, hands-on experience, and coming from a small university, I knew the transition would be easy." A key quote she keeps near to her heart
was told to her when she was in one of her co-op terms: "If you can work in public relations in healthcare, you can work anywhere".