July 2013
Melissa Nodding, BPR Co-op Student
Volunteer tourism "makes use of holiday-makers who volunteer to fund and work on social and conversational projects around the world and aims to provide sustainable alternative travel that can assist in community development, scientific research or ecological restoration." (The Voluntourist, 2004)

The Mount's Department of Business & Tourism has been offering a Study Tour course for the past two years with a focus on volunteer tourism. The Study Tour course offers students the opportunity to volunteer while learning about tourism and hospitality destinations and enterprises. During the winter 2013 semester, 15 students had the opportunity to volunteer with Habitat for Humanity in Orlando, Florida while visiting tourism destinations such as Disney World and Universal Studios.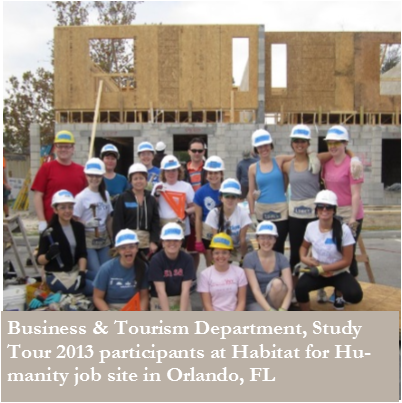 The students were accompanied by two faculty members as well as Scott and Kelly from the
Co-op Team. 10, of the 15 students who participated in the course this year were
co-op students from the Business Administration, Tourism & Hospitality Management and Public Relations programs.

The course participants stayed in Orlando for six days, three of which were spent building affordable housing, as well as working on refurbishing homes with Habitat for Humanity. The students worked with other volunteers and homeowners to provide families in need with safe and adequate shelter. One of the student participants, Jessica Skinner (BBA Co-op) commented, "because of my seemingly small contribution, a whole family is going to have beautiful, new, and air conditioned home. They now have a place to call their own; it was such a humbling experience for me." While participating with Habitat for Humanity was the primary focus of the trip to Orlando, visiting Disney World and Universal Studios provided students with some exposure of how large tourism destinations operate. "It was a great experience to see how major tourism destinations function" says Kelly Jacques, course participant and member of the Mount's Co-op Team.

This course also included volunteer hours within the Halifax Regional Municipality, as well as volunteering at the Mount's Annual Caritas Day Event. During the Caritas Day event in January, students completed a door-to-door food drive to collect donations for the Mount's Students' Union Food Bank. Students also volunteered at various not-for-profit organizations associated with the Sisters of Charity – Halifax.

There are many benefits of becoming a volunteer, they can be personal but they can be professional as well. Volunteering can be a great way to network; you will meet people from all walks of life and be able to make important connections with them. Volunteering can help improve the quality of a community, and from that you will gain a deep sense of self-fulfillment. You can also challenge yourself by trying new types of volunteer experiences, such as the students who participated in the Study Tour course did. Most of the students had never held a hammer before, so they also gained a new skill from their experience. Most importantly when you volunteer you will have the opportunity to have fun. It can be hard work, but at the end of the day you can walk away from the experience and know that you made a difference.