November 2013
Gillian Graves, BPR Co-op Student
According to public relations student Holly Smith, there are two kinds of people: people who refuse to climb a 150 foot ladder, and people who go for it. Holly Smith most definitely falls into the second category.

For her first co-op work term during the summer of 2013, Holly worked as Special Projects Coordinator for the Lunenburg Regional Fire and Emergency Service. Holly's major co-op project was managing the creation of a book on the history of volunteer firefighting, told through stories. Holly also created a website, secured sponsorship and attended community outreach activities.

At an outreach activity to introduce youth to volunteer firefighting, the chief of the Lunenburg Fire Department asked Holly to harness up and climb the ladder on top of the fire truck, extended to full height.

"He didn't think I'd take him up on it, but jumping in headfirst is the best way to learn," said the third year public relations student with a smile.
Holly is no stranger to high pressure situations or great heights. Part of Cadets Canada for seven years, Holly began flying at the age of 15. "Flying has put me into intense situations and I've learned that staying calm is key. Instead of thinking about the bigger picture, I think in steps."

A week after the climb, Holly observed a real practice for Hebbville volunteer firefighters. "Departments are very competitive with each other so they decided they needed to one-up the other department." Holly was dressed in full gear, given a breathing apparatus and put into a simulated house fire with a team of volunteer firefighters.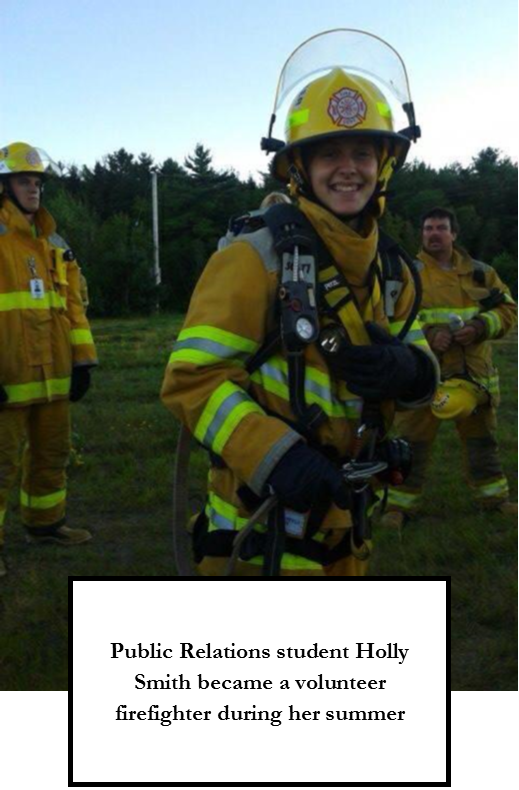 After the practice, Holly was told the department had never seen someone so natural.

To the delight of the department, Holly agreed to become a volunteer firefighter over the summer. Joining the department benefited her project; "becoming part of the department meant that other volunteers were more open to sharing their stories with me."

Holly was one of the department's youngest members, one of the few females and the smallest. "The gear is not designed for someone my size," said Holly. "Two of the strongest volunteers had to pull in opposite directions to tighten it."

Even after her four month co-op ended in August, Holly continues to volunteer for the Lunenburg Regional Fire and Emergency Service as their media contact. Holly describes her co-op experience as rewarding; "hearing the stories of volunteer firefighters and becoming one myself was amazing. Students are looking for opportunities to apply their skills and learn, and co-op is perfect for that."