November 2013
Gillian Graves, BPR Co-op Student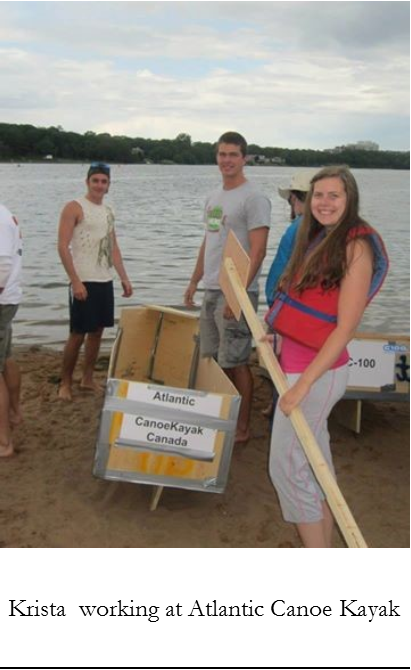 When Krista Surette was growing up in the small Nova Scotia town of Pubnico, she wanted to become a director. "I wanted to plan something on a big scale, and then sit back and watch it unfold from behind the scenes," said the third year business student. "I didn't think that co-op would help me realize a childhood dream."
This past summer, Krista worked as Event Coordinator for Canoe Kayak Canada's Atlantic Division. One of Krista's main duties was to plan a regatta, a race for canoe and kayakers, each weekend. This meant getting out of bed at 5 am and taking the hour commute to Lake Banook every Saturday morning.
Krista says that she was motivated to make each regatta run smoothly. "It's so rewarding when athletes, parents and volunteers appreciated the details I worked hard on."
A memorable moment of Krista's co-op was when she was offered the chance to attend the Canada Games in Sherbrooke, Quebec as manager of Team Nova Scotia. "I accepted right away; I didn't hesitate for a second," Krista said.
Krista cheered on Nova Scotia paddlers for five days at the Canada Games. "It was incredible to see something that I do, on a much larger scale." During regattas in Nova Scotia, Krista was in the judge's tower with officials, experiencing the event from behind the scenes. At the national competition, Krista had the opportunity to take in the event as an observer. "On the shore I could feel the energy of the spectators and athletes…everybody cheering, all of the provinces cheering for their teams; it was quite the rush."
Krista says that a summer working for Canoe Kayak Canada has sparked an interest in sports event planning. "That summer made me want to look at sports event planning a little deeper. There is so much of a community in sports – it's great to be a part of."
Looking back on the summer, Krista believes her work ethic developed, "I didn't have any professional work experience at the beginning of the summer so I was motivated to take advantage and learn as much as possible."
Although co-op work terms are optional for business students, Krista says she hopes to complete three during her degree. "A lot of entry level positions look for 1 to 2 years of experience but how would I get that if I'm just in school? Co-op has given me experience and amazing opportunities – I know the benefits will be long term."