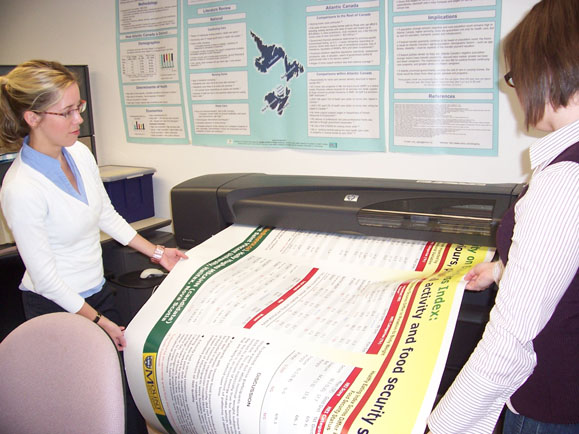 Through funding from the Canada Foundation for Innovation, Dr. Keefe was able to purchase a wide format color printer and laminator to support research activities. Our printing services are available, at reduced rates, to all MSVU faculty, staff and students.
The Steps to Printing Your Poster:
1. Carefully review your poster, to ensure it is "print ready". E-mail the electronic file to nsca@msvu.ca at least five days in advance of when you require the final version.

2. Once received, we will provide an estimate of the cost, if requested.

3. We will review the file.
(a) If it meets "print-ready" requirements, a small-scale proof will be provided. You will be required to view and sign the proof before full-scale printing will proceed.
(b) If your file does not meet "print-ready" requirements, staff will return the file to you with suggestions.

4. Once finalized, we will print your poster and advise when it is ready. We request that you arrange for pick-up, as we do not offer delivery service.

5. When you collect your poster, you will be asked to pay for the poster*.

*cash, cheque made payable to Mount Saint Vincent University, or via internal transfer.
Poster Printing Fees
White with some text

Solid fill/lots of pictures

Standard Size 3'x4'

$60.00*

$75.00*

Non-Standard Size

To be determined based on size and content.
*Prices are subject to change
Need Help Learning to Design a Poster?
View our Online Poster Design Tutorial which will teach you how to create a poster using Microsoft Office PowerPoint.
Our User Policy:
1. We are not able to provide software user support (e.g., Microsoft PowerPoint, Publisher, Excel). Such requests would be handled by IT&S.

2. We will receive limited questions about poster design, layout and printing and may offer a hands-on session if interest exists.

3. Any file developed using Microsoft products must be at least version 2002.

4. All print-ready requests (see checklist) are to be addressed to nsca@msvu.ca as opposed to individual staff.

5. We will provide an estimate for a non-standard print job.

6. All requests are to be received 5 days in advance of when print job is required.

7. A small-scale proof will be provided and must be approved by the client before print job will occur.

8. A full-scale proof, either draft or quality print, will be an additional charge.

9. We will not be responsible for trimming/cutting excess paper.

10. Print jobs are to be picked up at McCain Centre Room 201 in a timely manner, they will not be sent via inter-departmental mail or delivered by staff.

11. User must identify the department and account code from which the payment will be debited.

12. Payment of print job is expected in a timely manner.

13. All authors will be asked to confirm their research complies with MSVU University research ethics, if appropriate.