September 18, 2022
12:00 am - 12:00 pm
The last day to apply to on campus Student Works jobs for Fall/Winter 2022-23 is Sunday, September 18 at 11:59 p.m.
Domestic and international students, apply now! Undergraduate and graduate students, apply now!
Login into Career Connects with your Mount email address and regular password to view 31 part-time jobs on campus. The jobs take place from October 3, 2022 to December 9, 2022 and from January 9, 2023 to March 17, 2023 at $15 per hour for 12 hours per week. Successfully hired students can plan their work time around their class schedule.
To apply
Students fill out one Financial Aid form and submit it with one resume and cover letter(s) for the jobs for which they want to apply to financial.aid@msvu.ca. Instructions are in the job postings.
To be eligible to apply for the Student Works program, students must:
– Demonstrate financial need by completing the Student Works application
– Be a FULL-time Mount student for the 2022/23 academic year (both Fall and Winter terms)
– Be living in Canada
– Have a valid Canadian social insurance number and bank account
– Hold a valid study permit (if an international student)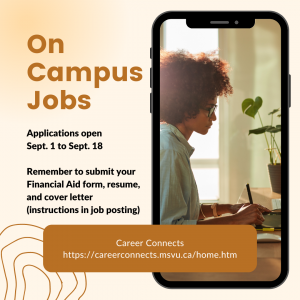 ---