November 25, 2021
10:30 am - 11:30 am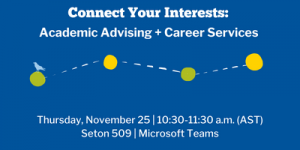 Connect Your Interests: Academic Advising + Career Services Workshop
Academic Advisors are teaming up with Career Services to help you identify your interests and connect those interests with potential careers and majors and programs offered at MSVU. After the session, you will be invited to book one-on-one appointments with an Academic Advisor to discuss majors, minors, and program planning. This will be a hybrid event, offered online through Microsoft Teams and in-person on the MSVU campus.
Thursday, November 25
10:30-11:30 am (AST)
Seton 509 | Microsoft Teams
To register, email advising@msvu.ca. Pre-registration is required for both online and in-person attendance.
---