February 9, 2023
11:30 am - 1:30 pm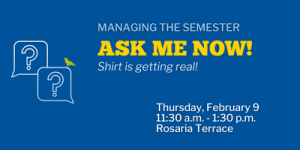 Ask Me Now! Managing the Semester
Shirt is getting real!
The semester is picking up and things are getting real. Stop by the Ask Me Now pop-up to find resources, get advice from OSE staff, and discover ways to get started, manage anxiety around assignments and tests, and have a less stressful semester. You'll be in the "Good Place" in no time at all.
Thursday, February 9
11:30 a.m. – 1:30 p.m.
Rosaria Terrace