December 3, 2021
10:00 am - 12:00 pm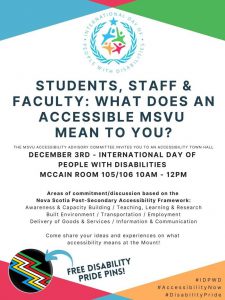 The MSVU Accessibility Advisory Committee invites you to an Accessibility Town Hall. Come share your ideas and experiences on what accessibility means at MSVU. You can attend in person or via Microsoft Teams.
Areas of commitment/discussion based on the Nova Scotia Post-Secondary Accessibility Framework:
Awareness & Capacity Building
Teaching, Learning & Research
Built Environment
Transportation / Employment
Delivery of Goods & Services
Information & Communication
Free Disability Pride pins!
To RSVP for the in-person session, request an accommodation, and/or request a link to join the event via Microsoft Teams, please email gloria.johnston1@msvu.ca
---