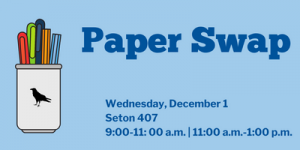 Paper Swap
Final papers stressing you out? Tired of looking at the same paper over and over? Come join one of two paper swap sessions to de-stress and get fast, practical help on your term papers! Bring a print assignment draft in any condition, from any course. Get a reader, be a reader, and watch your paper get better while you eat muffins and sip coffee. Come solo or with a friend, pair up, swap work, chat, and get guidance. There will be a Writing Tutor on hand to answer any questions.
Wednesday, December 1
Session 1: 9:00-11:00 a.m. | Session 2: 11:00 a.m.-1:00 p.m.
Seton 407
Your paper draft is your passport to the event.